Embracing LBJ's legacy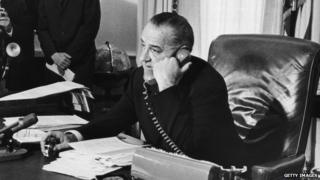 A review of the best commentary on and around the world...
Today's must-read
President Barack Obama and former Presidents George W Bush, Bill Clinton and Jimmy Carter are among the dignitaries visiting the Lyndon Baines Johnson Presidential Library in Austin, Texas, this week to mark the 50th anniversary of the Civil Rights Act.
Johnson's instrumental role in shepherding the passage of the landmark legislation is often overshadowed by a Vietnam War that tore the country apart. Now, writes the Washington Post's Karen Tumulty, many Democrats are giving Johnson's robust liberalism a second look.
"This new warmth toward the 36th president comes as his party has moved to the left in recent years," she writes.
She continues:
The health-care law that President Obama put into place is the most ambitious domestic program since Johnson's Great Society era. Where laws striking down racial barriers stand among the great achievements of Johnson's presidency, Democrats have taken up gay rights as the civil rights struggle of the 21st century. The party also is putting a new emphasis on income inequality, an issue that carries echoes of LBJ's War on Poverty.
The current level of gridlock in Washington has some Democrats wistfully remembering what Johnson was able to accomplish, writes the New York Times's Peter Baker.
"For better or worse, Johnson represented the high-water mark for American presidents pushing through sweeping legislation - not just the Civil Rights Act, but the Voting Rights Act, Medicare, Medicaid, the Fair Housing Act and major measures on immigration, education, gun control and clean air and water," he writes.
"No president since has approached that level of legislative success, although there are people who argue that is a good thing because government should not be so intrusive."
He says, however, that Washington has changed since the days of Johnson's "Great Society".
"The country faced crises both parties felt compelled to address," he writes. "And political deal-making then was different with pork projects called earmarks that are now banned - seedier, perhaps, but also effective."
Add to that the fact that US political parties have become more ideologically pure and faith in the government as a whole has deteriorated, he contends, and we find ourselves in our current state of affairs.
China
Island takeover - It is not unrealistic that China may seize the Senkaku/Diaoyu Islands, and soon after Japan's Ryukyu Islands as well, writes Naval War College Prof James Holmes in Foreign Policy. The Ryukyu Islands are inhabited by about 1.5 million Japanese and are the location of US Marine and Air Force bases that monitor the East China Sea. Taking over these islands would "announce China's return to the top of the Asian pecking order - and do so in resounding style," Holmes writes.
Philippines
Reproductive rights success - Women should celebrate the Philippine Supreme Court ruling that the Responsible Parenthood and Reproductive Health Law is constitutional, writes Rina Jimenez-David for the Philippine Daily Inquirer. Even though eight provisions were struck down, the law is an overall success.
"Finally, the government has the mandate to fully fund and implement its reproductive health policies, including giving young people age-appropriate, accurate and practical education on matters regarding sex, sexuality and personal responsibility," she writes.
North Korea
TV time - Leaders of North Korea may be trying to lure citizens back to watching state propaganda by signing an agreement to air BBC television shows Doctor Who, Top Gear, and Teletubbies, writes Lily Kuo for Quartz. "Rather than signalling new openness, the prospect of a deal may be a clue of how worried officials are over foreign TV shows and movies already being smuggled into the country," she says.
Scandinavia
Questioning neutrality - Finland and Sweden have begun discussions about joining Nato over concerns about Russian aggression, writes Suvi Turtiainen for Die Welt (translated by WorldCrunch). "It would not be unusual for Russia to unleash economic war if Moscow is of the opinion that a neighbour has hurt its interests," Turtiainen writes. There is widespread dissent within Finland and Sweden, however, and membership is unlikely to happen anytime soon.
BBC Monitoring's quotes of the day
Main Turkish opposition Republican People's Party (CHP) leader Kemal Kilicdaroglu was punched in the face while on his way to a party meeting in parliament on Tuesday. The incident has been strongly condemned by many political parties and politicians. Their sentiments are echoed by the Turkish press.
"The most likely explanation is that it is the reflection of the 'high political tension' that was felt before the 30 March election... This is a warning against the mentalities that turned the elections into battles and consolidated votes by doing so." - Guneri Civaoglu in Milliyet siyaset.
"This cannot be seen as just an ordinary incident. It cannot be glossed over by a condemnation. It is an alarm. If the main opposition leader is punched under parliament's roof, this means the word has long failed there. It is not the first case, where a politician has been attacked... but the attack, being carried out in parliament, is making the situation much more serious." - Mustafa Unal in Zaman.
"If party leaders in Turkey are being attacked in parliament, what should ordinary citizens do? The duty of the police is to protect the lives and freedoms of the people! He is the police of the people not of the state! The point that has been achieved is hurting my country." - Hikmet Cetinkaya in Cumhuriyet.
Have you found an interesting opinion piece about global issues that we missed? Share it with us via email at echochambers (at) bbc.co.uk.