World News America nabs a Peabody for Syria coverage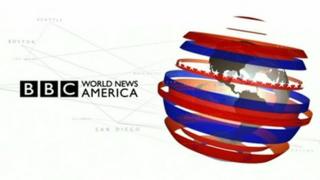 On Wednesday, the University of Georgia's Grady School of Journalism announced the winners of the 73rd Annual Peabody Awards, which recognise achievement in television, radio and the internet. BBC World News America received an award for its coverage of the Syrian civil war.
"From gruesome mass-murder scenes outside Homs to displaced children living in caves, the consistent, up-close coverage of Syria's civil war and its human toll by BBC World News journalists had no equal in 2013," the award committee writes.
The BBC has covered the ongoing conflict in Syria since its early days, including extensive reporting by correspondents Lyse Doucet, Paul Wood, Ian Pannell and Jeremy Bowen, among others.
The award is the fourth Peabody for BBC World News America and first since it won two in 2009. Its Syria coverage also received a 2013 Emmy Award.
"I could not be prouder of my BBC colleagues for their reporting on Syria," said BBC World News America anchor Katty Kay. "Despite huge hurdles they refused to give up on telling this heart breaking story. They did so with compassion and clarity. And I know they would join me in asking us all to take this moment to remember the millions of Syrians caught up in this war."
BBC America was recognised for two original series, Orphan Black and Broadchurch - tops for a basic cable network.
In total, the Peabody committee gave out 46 awards for work done in 2013, a record number.
Among the other notable recipients announced on Wednesday were AMC's hit series Breaking Bad, two Netflix shows, House of Cards and Orange Is the New Black, and ABC's Scandal.
The committee also praised a pair of investigations on the link between brain injuries and American football, from PBS's Frontline and ESPN's Outside the Lines.
It said the Pakistani animated cartoon Burka Avenger "sends a clear message about female empowerment that has the potential to affect an entire generation".
The Philippine's GMA Network was also lauded for its coverage of Typhoon Haiyan.
"The quality of storytelling in electronic media continues to increase year-after-year, across platforms, producing organizations and nations," said Jeffrey P Jones, director of the Peabody Awards.
The award ceremony will take place on 19 May in New York City. Here is a full list of the winners.