Cold War, the sequel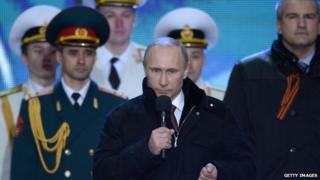 A review of the best commentary on and around the world...
Today's must-read
The "post-Cold War" era in Europe is now over, writes former Obama administration Ambassador to Russia Michael A McFaul.
In a New York Times opinion piece, Mr McFaul argues that the US did not "fully win" the Cold War because Russia did not transition to a functional democracy and become integrated with the West. Now nationalism and autocracy have taken hold there.
"The Kremlin has both the intention and capacity to undermine governments and states, using instruments like the military, money, media, the secret police and energy," he writes.
Because of this, he concludes, Ukraine's democracy and stability must be bolstered and Russia needs to be isolated. The US needs to regain its moral standing in the world and abandon its move toward global disengagement in order to prevail.
We have entered a "tragic era" of "ideological clashes, nationalistic resurgence and territorial occupation", he says.
Qatar
Don't rush to judgement on World Cup 2022 - Rumours swirl that Qatar bribed its way to being awarded the 2022 World Cup, its construction workers are being mistreated, and it's too hot in the Middle East for players. Lee Wellings writes for Al Jazeera that while Fifa has been corrupt for years, there is no proof of Qatar's malfeasance. "Do I think the World Cup should be taken away from Qatar?" he asks "Absolutely not."
Afghanistan
Progress in an unfinished war - While public opinion may be that war in Afghanistan is still raging, the military scene is actually fairly positive compared to previous years, writes Michael O'Hanlon for Politico. Some areas still experience violence, but overall the rate is dropping. "This war may not be won in a classic sense, but it is also surely not being lost," he says.
Libya
The West's broken promises - Western media have failed to acknowledge problems such as human rights abuses, internal divides and the possibility of a civil war in Libya, Owen Jones writes for the Guardian. Nato countries should be held accountable because they broke Libya, and they have since failed to fix the mess they made.
Baltic states
How many allies are enough? - The United States used "appallingly bad judgment" when committing to defending Baltic States against Russia, Ted Galen Carpenter writes for the National Interest. The US strategy of "collecting allies for the simply for the sake of collecting allies" damages the country's credibility and puts Nato at risk because it requires expansion into an unstable Central and Eastern Europe, he concludes.
BBC Monitoring's quotes of the day
The Turkish press on Monday is dominated by reports and comment on Sunday's shooting down of a Syrian military jet alleged by Turkey to have violated its airspace.
Several leftist papers focus on the fact that Turkish Prime Minister Recep Tayyip Erdogan congratulated the Turkish air force on its actions in an address delivered to a rally of Justice and Development (AK) Party supporters only a week before local elections on 30 March.
The leftist paper Taraf carries the headline: "A war game, only a short while before the elections".
The secular daily Cumhuriyet's headline is: "He is dragging [Turkey] into a war".
Pro-government papers, on the other hand, view the incident and Mr Erdogan's congratulations to the pilots in a more positive light.
The centrist pro-government daily Sabah regards the downing of the Syrian fighter plane as an act of revenge for the deaths of two Turkish pilots shot down by Syrian forces in June 2012, a view reflected in the paper's headline: "Two of our martyrs find peace".
Meanwhile, the pan-Arab paper al-Quds al-Arabi says that the incident "gives Erdogan … a rare opportunity to escape from his crises by rallying Turkish nationalism against its opponents".
Have you found an interesting opinion piece about global issues that we missed? Share it with us via email at echochambers (at) bbc.co.uk.