Did a Florida election sink Democratic hopes?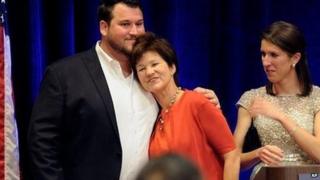 There are 435 voting members of the House of Representatives. On Tuesday an election was held for one of those seats, 0.2% of the body's total membership.
The winner was Republican David Jolly. He narrowly defeated Democrat Alex Sink by 1.8% to keep a St. Petersburg, Florida, seat previously held by the late CW Bill Young in Republican hands.
It was, in the words of Politico's Jake Sherman and Burgess Everett, a "crushing defeat" for Democrats.
Wait, what?
The race took on extra significance because, due to Mr Young's death, this was the first congressional election of 2014. Democrats and Republicans sent high-profile politicians to back their candidate. Both campaigns and supporting outside groups spent more than $6m (£3.6m) each on the campaign, the most expensive House race in US history.
Pundits and political insiders, desperately trying to read the tea leaves to find out how the congressional midterm elections in November will play out, took notice.
So commentators are commenting and analysts are analysing. And what many of them are talking about this week is the effectiveness of healthcare reform, aka Obamacare, as a campaign issue. Mr Jolly ran against it, while Ms Sink defended it, although she acknowledged that parts needed fixing.
According to Republican campaign guru Karl Rove, writing in the Wall Street Journal, this is evidence that health care reform is going to be a reliable campaign issue for his party. While they shouldn't "uncork the champagne", he contends, exit polls were encouraging for Republicans.
"Attacking Obamacare motivated them more than supporting it energized Democrats," he writes.
Byron York of the Washington Examiner writes that Democrats are going to have difficulty crafting the kind of "mend it, don't end it" health care message that Ms Sink tried to employ.
"They have to say they want to fix the program because almost nobody (a bare eight percent in the latest Kaiser Foundation survey) wants to keep the law as is," he writes.
"But to fix the aspects of Obamacare that are imposing new burdens on millions of Americans - higher premiums, higher deductibles, a hugely unpopular mandate, and narrower choices of doctors, hospitals, and prescription drugs - Democrats would have to advocate fundamental changes in the law that they have so far steadfastly refused to accept."
The election confirms what Republicans already know, writes Conservative Intel's David Freddoso. "The political environment is really awful for Democrats right now."
He says Democrats should be worried about the "toxic" environment they're facing.
"The bottom line is that Democrats are probably going to lose seats in the House this year," he writes. "Obama's approval ratings are miserable and Obamacare is an enormous drag."
Other Republicans are more confident in the predictive nature of the results. US News's Peter Roff says that Mr Jolly "was a Washington lobbyist with a rather messy personal life", while Ms Sink had state-wide campaign experience.
"The White House refuses to realize that Obamacare is an anchor around the neck of Democrats running for office everywhere from Maine to California and from Alaska to Florida," he writes.
The National Review's Jim Geraghty agrees:
Put simply, if a flawed candidate like David Jolly can get traction - not automatic victory, but traction - against a Democrat who never voted for Obamacare in a swing district, how much will the issue help a better Republican candidate against an incumbent in a red state?
Democrats counter that a narrow Republican win in seat that had been held by a Republican for 42 years is no reliable way to predict the country's political mood.
"While basically all political sites try to draw big conclusions from this one race since there is little else for them to talk about in March, it is a bad idea because special elections are poor predictors and we are dealing with a sample size of one," writes Jon Walker of the blog Firedoglake.
"The district in question leaned slightly Republican, it was a low-turnout special election and Republican and Democratic parties are basically even in current generic congressional polls."
Salon's Brian Beutler also pushes back against the argument that health care reform was a decisive issue in the race.
"Do they really think that absent Obamacare, Democrats would be sitting pretty?" he asks. "Or that a better rollout would've changed the map? Do they think Obamacare will be the difference between zero (or a couple) Senate pickups and the six or more they need to control the Senate?"
Looking at the Florida race specifically, he contends that there are many factors at play.
"Isolating an 'Obamacare effect' is pretty complex, and anyone claiming today that the Obamacare effect was huge or obviously decisive is probably peddling snake oil," he writes.
According to Politico's Sherman and Everett, however, Democrats fear Ms Sink's position on health care was a problem.
"Democrats are concerned the health care law's approval ratings won't rebound by the time voters go to the polls in November," they write. "Even more significantly, they fear the law's unpopularity - along with President Barack Obama's flagging approval ratings - could keep Democrats home in November."
They conclude that Florida shows Democrats may be facing "stiffer headwinds" than expected.
So was Florida's race really important? Sometimes a battle is important because both sides decide it is, and everything flows from there.
Gettysburg wasn't a key strategic location during the Civil War - it just happened to be where the two armies decided to fight.
Such may be the case with Florida's 13th congressional district. By November, when the composition of the House will be decided and control of the Senate could be in play, we will know for sure.