Duke freshman reveals porn identity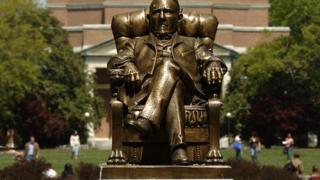 The campus of prestigious Duke University in Durham, North Carolina, has been consumed with talk of a freshman who recently revealed that she was paying part of her college tuition with money earned through pornography work.
The rumours started when she confided her part-time profession to a classmate who recognised her from one of her adult films. He subsequently spread the word to his friends. It wasn't long before much of the campus knew, and - once it hit the internet - the world.
The 18-year-old, under the pseudonym "Lauren", gave an interview last month to her college newspaper and wrote about herself for the blog xoJane.
She said she had decided to come forward in order to bring the salacious gossip and online harassment she was receiving - "slut-shaming", as it's often called - to light.
"If people are going to talk about you, you might as well control the conversation and use it to start a dialogue, which in this case is about the abuses we inflict on sex workers," she says.
She continues:
I find it interesting that porn (a billion-dollar industry) is consumed by millions of people - men and women (and all other equally wonderful genders) alike - yet no one is willing to consider the lives of the people behind the camera. No one wants to hear about the abuses and exploitation that take place, no one wants to hear about the violence committed every day against sex workers, no one wants to consider that we have hopes and dreams and ambitions.
She explains that she became an adult actress to help pay her college's $60,000 (£36,000) annual tuition.
"For me, shooting pornography brings me unimaginable joy," she writes. "When I finish a scene, I know that I have done so and completed an honest day's work. It is my artistic outlet: my love, my happiness, my home."
On the internet, however, there are no secrets - and the student's real identity has become readily available. It's the latest example of "doxxing", where a person has often-intimate details of their lives unearthed and spread by anonymous internet users.
Sometimes the information revealed is as simple as publicly available Facebook and Instagram photos. Other times, it can be much more.
The Washington Post's Caitlin Dewey explains:
Thanks to a series of soul-wilting anonymous postings on forums like CollegiateACB, AutoAdmit and Barstool Sports, you can find out a whole lot more than that without a whole lot of effort. You can see Lauren's porn name, photos from her films, and her casting page on the Web site of the model agency she works for. You can find the name of her hometown and high school; her father's profession and e-mail address; and a list of her hobbies and extracurriculars.
She says that condemning these online communities is fruitless, however.
In short, as long as people care about reading gossip, and advertisers care about reaching readers, anonymous gossip forums will thrive. That's just the internet we live in. Protesting otherwise is almost as naive and absurd as Lauren's repeated comments that she'd like to stay anonymous; there's only anonymity for gossipers, not their subjects.
On Tuesday, the Duke freshman went one step further, publicly confirming her acting name, Belle Knox, in another xoJane post as well as in an interview with Playboy.
She tells the adult magazine that the high cost of education left her little choice but to turn to pornography:
The fact that the only viable options to pay for college are to take out gigantic student loans, to not go to college at all or to join the sex industry really says something. We need to recognize that there's a gap between what middle-class and upper-middle-class families can pay and what they're asked to pay. We also need to stop looking at loans as a solution to fix our education system, because they're crippling our economy.
All this has Time magazine's Elaina Dockterman observing that even the Playboy interviewer seemed a bit puzzled by her response. "If Playboy is questioning your foray into the porn industry, you know you have a problem," she writes.
"Student loans are an absurd burden on anyone, but most students find jobs on campus - doing research for professors, working at local stores, writing," she writes. "Porn may feel more empowering to the self-identified libertarian Knox than waitressing, but I promise that her frat boy peers won't see it that way. And employers definitely won't see it that way."
Of course, Dockterman notes, we should keep in mind that Knox is still just a teenager and a bit naive.
"Perhaps Knox thought that the judgements against her would be less virulent from a generation that has grown up with unlimited access to porn," she writes.
"But though we're living in an era when everything from clothing ads to salad dressing commercials is verging on soft core porn, she's finding that there's still a stigma attached to actual sex on camera."
Unfortunately for her, Dockterman says, mistakes in the internet age tend to live forever.
"College years are full of bad decisions that we must justify to ourselves and our roommates later in our dorm rooms," she writes. "For most, you live, you learn, you move on. But this decision will likely haunt Knox for the rest of her college and professional career."
Ms Knox said she first came forward in print to "control the conversation". In the internet age, however, the "conversation" often controls you - and there's no way to turn it off.