SXSW: What hath tech wrought?
By Anthony Zurcher
Editor, Echo Chambers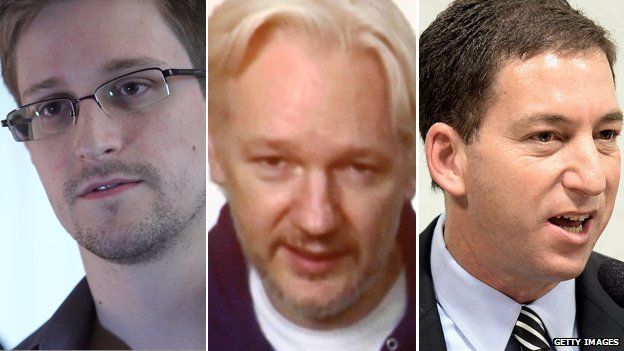 The once-secret surveillance programme of the US's National Security Agency (NSA) is casting a long shadow over this year's South by Southwest (SXSW) Interactive conference, a festival of technology and innovation that starts on Friday.
Amid the search for the Next Big Thing, the breathlessly detailed hopes and dreams of would-be Silicon Valley millionaires, the manic buzz of corporate public relations teams, and the alcohol-sodden parties, there's a darker edge.
Wikileaks founder Julian Assange will speak on Saturday. NSA whistleblower Edward Snowden, along with Glenn Greenwald, the journalist to whom he leaked his trove of classified government documents, are scheduled for Monday.
Of course, none of these men will actually be here in Austin, the booming state capital known for live music, good food and liberalism in a sea of Texas conservatism. Instead they are scattered around the globe, communicating via videoconference.
If Mr Assange and Mr Snowden were to set foot on US soil, they'd likely be arrested immediately for crimes against national security. Instead the former is hunkered down at the Ecuadorian embassy in London, fighting extradition to Sweden for a sexual assault investigation, while the latter lives in Moscow under Russian-granted asylum.
Greenwald says that he is concerned he might share a similar fate if he leaves his new home in Brazil - although he has hinted that he may return to the US at some point anyway.
Meanwhile, panel discussions and seminars on internet security, government surveillance, corporate data-mining and the challenges of social media dot the five-day conference line-up.
"As organizers, SXSW agrees that a healthy debate with regards to the limits of surveillance is vital to the future of the online ecosystem," writes SXSW Director Hugh Forrest in a press release.
Known as the launching pad of Twitter and Foursquare, SXSW is a place where a savvy businessperson can find the backing to make an idea into reality. But this year, talk also turns to the perils of the interconnected world that these ideas have created.
SXSW started as a music conference, and on Wednesday the recording industry will claim the stage. Austin will look more like Hollywood or Nashville, as the "geek" collection of tech entrepreneurs and journalists depart.
Until then, however, there's time to debate whether we should be proud of this brave new world we're building.
Is all this technology, the constant churn of newer and flashier things, making life better? Or are we sacrificing something essential in pursuit of digitally aided convenience?
I'll share my observations over the course of the conference.
Is technology worth the hype?