Penalising racism: Sport and the 'n-word'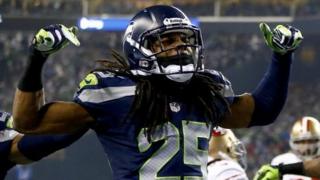 Emotions run high in sport - particularly when played professionally at the highest level. Trash-talking, taunting opponents to make them lose focus, is an everyday occurrence.
But what happens when the words used are perceived as racist? Or even when a bit of celebration or attempts at self-motivating not directed at a specific player contain racist language or imagery? And could the use of offensive language end up deciding the outcome of a match?
In the Football Association, rule E3 prohibits "using abusive and/or insulting words... including a reference to ethnic origin and/or colour and/or race."
The provision was cited in January to punish West Brom striker Nicolas Anelka, who was given a five-match suspension and fined £80,000 ($133,736) on 27 February for making a "quenelle" gesture, which has been called an "inverted Nazi salute", after scoring a goal in December.
In October Jack Jebb, a player on Arsenal's under-18 team, received a four-match ban and a £1,800 fine for racist language during a game
Rule E3 suspensions could adversely affect a team that is forced to play without a key player in a later match. But could using a slur be penalised during an actual match?
Referees have the discretion to hand out red cards for racist language, but there seems to be no high-profile examples of it ever happening.
In the US, the National Football League has fined a white player for using the "n-word" during the offseason and suspended a black referee who directed the epithet toward a black player. It is now exploring its own methods for punishing racist language within the confines of the game.
A league rules committee is considering allowing referees to impose a 15-yard penalty on a team whose player makes racist remarks - the same sort of punishment assigned to everyday occurrences like grabbing a player's facemask or a late hit on a quarterback. Any proposal would have to be approved by two-thirds of the league's owners.
Brandon Raper of RantSports calls the idea a "no-brainer".
"There is absolutely no place in decent society for racist or homophobic slurs, and the NFL has the platform to really make an impact here," he writes. "Players are certainly still going to use plenty of foul words, and if you've spent any time in a locker room you understand that. But if this gets people to use the space between their brains and their mouths before they spout off garbage, at least at the workplace, that can only be a good thing."
Peter King of Sports Illustrated worries about how the penalty can be enforced, however.
"What happens if an official thinks he heard the n-word from one player and it actually was another?" he writes. "The referee could call the unsportsmanlike conduct penalty/language foul, and if the offending player is white, it's going to scar him for his career. What if the call is made on the wrong player?"
He asked three black players what they thought, and while one said it was a good idea in theory, two were opposed.
"It's an atrocious idea," Richard Sherman of the Super Bowl champion Seattle Seahawks told King. "It's almost racist, to me. It's weird they're targeting one specific word. Why wouldn't all curse words be banned then?"
One of Sherman's teammates, Doug Baldwin, told the Tacoma, Washington News Tribune that the n-word is a "term of endearment" for blacks.
The NFL's move, and player response, has once again rekindled the debate over acceptable uses of the n-word in the black community.
Ta-Nehisi Coates of the Atlantic writes that the drive to punish use of the n-word is a racist "effort to punish black humanity":
When people claim that the word "nigger" must necessarily mean the same thing, at all times, spoken by all people, one wonders whether they understand how the very words coming out of their mouth actually work.
The Detroit Free Press's Mitch Albom thinks the NFL is well within its right to impose an in-game penalty.
"The N-word fight is unique," he writes. "And while nobody should dictate private conversations, if the NFL is going to suspend a white player for using the N-word at an off-season concert or suspend an African-American referee for allegedly saying it to an African-American player, then why the shock at a yellow flag? It's 15 yards, not a lifetime ban. The NFL would equate the behaviour with excessive celebrating."
Then there's the issue of league commissioner Roger Goodell punishing players for using racist language when the name of its Washington franchise has itself been called an epithet.
"Roger Goodell doesn't have the guts to stand up and say Redskin is an offensive name," said television sport chat show host Michael Wilbon. "So he wants to take [the N-word] out of play, but he won't take Redskin out of play? How gutless is that? What kind of signal are you sending? You act like Redskin is a term of endearment, which has been his position so far."
It seems a simple move like penalising racist language isn't so simple after all.