What in the world: Arizona 'anti-gay' bill a battle of hypotheticals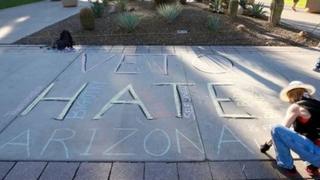 A review of the best commentary on and around the world...
Today's must-read
Debate over an Arizona bill that would allow businesses to refuse service to individuals based on religious beliefs has turned into a battle of hypotheticals.
The Alliance Defending Freedom's Kellie Fiedorek says the bill is about religious freedom of expression:
Do you believe a photographer who identifies as homosexual should be punished for refusing to photograph an event celebrating the Westboro Baptist Church's hateful ideas? Do you believe a Jewish printer should be threatened for declining to promote a conference criticizing Israel? Do you believe a pacifist should be coerced to paint pro-war posters for a rally? If you believe all these are wrong, you should support Arizona's SB 1062 - because that's what the bill's about rather than the things you may have heard.
"The law helps protect every Arizona citizen from unjust fines and other punishments for refusing to promote messages or participate in events the government demands he or she advance," she argues.
USA Today's Kirsten Powers disagrees, writing that the bill is an "abomination". Although its unstated goal is to allow discrimination against homosexuals, she says, it opens the door for a host of unintended consequences, including Muslims discriminating against Christians, pacifists discriminating against soldiers and Mainline Protestants discriminating against evangelicals.
"In a religiously pluralistic society, the possibilities for discrimination based on sincerely held religious beliefs are endless," she writes.
Israel
Abandoning US allies? - With ever-growing conflict in the Middle East and the Obama administration's announcements of US troop withdrawals, writes Tom Wilson in Commentary magazine, Israel may find itself alone as a Western ally in the region. It is essentially only because of Israel that nuclear warfare has been avoided in the Middle East, he contends. Israel has taken on "an increased level of responsibility", requiring that the nation remain secure and unthreatened.
China
Where in the world is Zhou Yongkang? - High-ranking Chinese elite Zhou Yongkang "looms at the nexus" of decisions about China's future, writes Isaac Stone Fish in Foreign Policy magazine. Zhou was the head of the state security apparatus and a member of the Politburo Standing Committee from 2007-12. He mysteriously disappeared last October, however, and Fish asserts it's because "the party is almost certainly trying to bring him down". The whereabouts and happenings regarding Zhou must be unveiled because his removal from the Chinese elite circle and political party could determine the China's fate. "It could strengthen the party, split it, or hasten its collapse," he concludes.
Afghanistan
No troops left behind - If Afghan President Hamid Karzai refuses to sign a security agreement with the US, President Barack Obama will withdraw all US troops by the end of 2014, writes Doug Mataconis for the Outside the Beltway blog. The original plan was to leave about 8,000 troops in Afghanistan, but "for reasons that remain entirely unclear" Mr Karzai is remaining unresponsive. The deadline set by the US is an attempt to end the "little dance between Washington and Kabul". Mataconis contends that incompliance from Karzai may be better, as it would mean all US troops would finally leave Afghanistan after over a decade of intervention.
Cambodia
Turn up the volume on human rights abuses - The recent murders in Cambodia of five garment workers peacefully striking are indicative of Prime Minister Hun Sen's penchant for government-sanctioned violence, writes former Foreign Minister of Australia Gareth Evans. Mr Sen, who has remained in control for over three decades, has not been reprimanded strongly enough, he contends. Government officials need to be "named, shamed, investigated, and sanctioned" by the international community.
Mexico
Drug empire continues after Guzman capture - Although the capture of Joaquin Guzman is a public relations coup for Mexican President Enrique Pena Nieto, it won't end the violent drug trade, writes Bloomberg View's Raul Gallegos. "Mexican politicians interested in a different approach to illegal drugs," he writes, should consider "the legal growing and distribution of pot in pharmacies".
Central Asia
The home of moderate Islam - S Frederick Starr of Central Asia-Caucasus Institute writes in the New York Times that Central Asia is proving to be fertile ground for "secular governments and free markets". Although the nations there are not rich in oil and gas, the US should not "underestimate their cultural importance and potential impact".
Venezuela
Maduro is losing control of the country - Venezuelan President Nicolas Maduro was Hugo Chavez's handpicked successor, but he "lacks his forerunner's humour and, especially, his aplomb" writes Jens Glusing in Der Spiegel. His actions have wrecked the nation's economy and angered its people, and the ongoing demonstrations are a reflection of this.
BBC Monitoring's quote of the day
Russian intervention in Ukraine: "Any serious attempt by Russia to bring Crimea back will result in a war. And it will be a very different war from the one in August 2008 after Georgia attacked South Ossetia. It will be a war that will ruin our economy and our standard of living. It will be a war that will bury our relations with Ukraine and the West. It will be a war that will irrevocably change the life of every Russian citizen." - Mikhail Rostovskiy in Moskovskiy Komsomolets
One more thing…
Baby Boomers should get over the Beatles - The Washington Post's Rachel Manteuffel writes that Baby Boomers need to acknowledge that their music wasn't any better than the tunes that she and her fellow millennials enjoy. To prove her point, she analyses the Beatles lovelorn anthem Yesterday, which she contends "by general agreement took the Beatles from Popular to Important, the most-covered rock song of all time".
"The essential message of the song is that things were nicer in the past," she writes. "Except, as the nonsensical timeline and shallowness of the heartbreak show, these things were not that great but only seem so because of nostalgia."
The rest, she says, "is just repetition and humming".
Have you found an interesting opinion piece about global issues that we missed? Share it with us via email at echochambers (at) bbc.co.uk.