Olympic ice skating: Viewers love big crashes, media revel in bitterness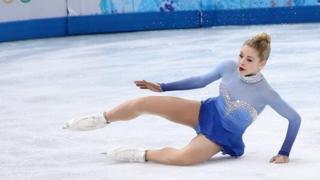 Sometimes it seems like people watch figure skating for the same reason fans tune in to car racing: the crashes.
There's something captivating about athletes at the very top of their sport, who have practised years for a few minutes in the spotlight, still capable of failing so spectacularly. Their fallibility, in way, is comforting. If even the best are imperfect, it makes our shortcomings that much more tolerable.
Nico Lang, writing for Salon.com, has another theory. She thinks viewers, and the media, are enamoured with female figure skating in particular because our culture loves putting women on a pedestal and watching them "torn apart".
"Figure skaters are so mesmerizing to American audiences in part because they're consummate athletes whose sport also performs traditional femininity," she writes. "A skater is everything a woman is taught to be, graceful and elegant, an ethereal figure reduced to the very fact of her body. She can seem more than human, almost angelic, until the moment she is brought down to earth."
In effect, it is the old Madonna/whore trope played out on ice:
From "Revenge" to the "Real Housewives" series, our media culture revels in seeing women torn apart, whether relieved of their hair extensions or exposed for their flaws. A figure skater executing a perfectly graceful routine until the moment she slams into the ice satisfies this obsession perfectly.
OK, so maybe Lang's whore metaphor is a bit too subtle. How about this?
Strip away the sequins, wipe off the pancake makeup, delete the frozen-in-place smiles, and what's left is a tawdry whore of a sport where the judges are the johns.
That's Toronto Star columnist Rosie DiManno, in a column complaining that the Canadian team of Tessa Virtue and Scott Moir came in second behind Americans Meryl Davis and Charlie White in the ice dancing competition.
She proceeded to analyse the components of the top two finishers, concluding that the Canadians were the victims of a pro-US conspiracy.
Sour grapes? Some in the American media certainly think so, calling it a "sore loser attitude" and labelling DiManno as "Canada's worst columnist".
The falls, the Byzantine judging process, and the occasional conspiracy theories and nasty spats - it's part of the whole spectacle that surrounds the combination of pure athleticism with art and emotion. (And get ready for another round of controversy, after Thursday night's women's individual competition, which gave Russian Adelina Sotnikova the gold over defending Olympic champion Yuna Kim of South Korea.)
Ice skating brings out the best of our media culture - and the worst. And it's why it has been and likely always will be the big draw of the Winter Olympics.