What in the world: Is liberal elitism killing the middle class?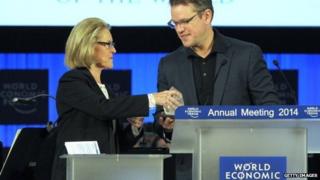 A review of the best commentary on and around the world...
Today's must-read
We present two big-picture columns on the challenges facing the middle class in the US, which appears mired in an economic slump while those at the top prosper.
The middle class's problems come from the elitism of the nation's liberal leaders, writes the Washington Examiner's Michael Barone in his review of Fred Siegel's new book, The Revolt Against the Masses: How Liberalism Has Undermined the Middle Class.
Contrary to popular belief, Barone argues, liberalism was not founded on supporting an increasing role of government in daily life to help the "working-class striver". Instead its defining principles have been a "contempt for ordinary Americans" and an attempt to preserve the privileges of those at the top with the support of those at the bottom.
For evidence of this, he contends, one need only look at President Obama's stimulus package, which propped up big banks, and health care reform, which he says helps the poor at the expense of the middle class.
Anand Giridharadas of the New York Times also thinks the middle class is being ignored - but it's not liberal elitism to blame so much as the mundaneness of everyday American problems.
Americans love to solve the "Big Problems", he argues, such as cutting-edge innovation and overcoming the challenges of abject poverty. Those caught in between, however - "an American single mother and waitress, or a flailing veteran, or a laid-off car worker" - are invisible.
Middle-class challenges don't "get 'discussed' at Davos" during the World Economic Forum meetings, he writes. Innovations from the "thriving set" don't translate into jobs for the "struggling set".
Both authors make similar points, really - a group of privileged Americans (liberal gentry, according to Barone; innovators, according to Giridharadas) are succeeding while large numbers of their fellow countrymen languish.
Giridharadas sees three possible outcomes for the current situation: the have/have-not split continues, the "rot in hollowed-out America slowly infects and overwhelms the dynamic one" or "the thriving America decides to make the ailing country down the block its problem, too".
So we've got that to look forward to.
Asia-Pacific
The US is committed to regional prosperity and security - US Secretary of Defence Chuck Hagel and Secretary of Commerce Penny Pritzker write in the Wall Street Journal that the US is striving to "promote greater security and prosperity" in the region. They identify three areas of focus: the Trans-Pacific Partnership agreement, disaster relief, and preparedness efforts and joint military efforts with allies.
Bahrain
Hijacked reform - Islamic extremism has made it difficult for Bahrain to enact any meaningful political and economic reforms, writes Bahraini commentator Sarah Bin Ashoor in the New York Times. Until Shiite parties in the nation embrace democracy, Bahrain will be unable to develop into a modern, pluralistic nation, she concludes.
Indonesia
John Kerry's visit a reflection of new international standing - Indonesia is taking a more prominent role in South-east Asia's economics and politics, writes Dharmawan Ronodipuro in the Jakarta Post, and this was reflected in US Secretary of State John Kerry's visit to Jakarta on Sunday. "What Indonesia's leaders say and do in the years ahead will matter more than perhaps at any other time in our history," he writes. "We have the ability to become a vital mediator and bridge between the many competing interests in the region."
European Union
A Swiss warning on immigration - The recent referendum in Switzerland imposing new restrictions on immigration is an indication that right-wing, nationalist parties are gaining strength throughout the EU, writes syndicated columnist Pat Buchanan. May elections for the European Parliament could give anti-immigration forces more strength and fatally cripple the EU - and have repercussions for the immigration debate in the US.
China
Prostitution crackdown will fail - In 2011 prostitution was an estimated $8bn (£ 4.8bn) industry in the Chinese city of Dongguan. Because sex work is so deeply ingrained in the Chinese economy, writes Bloomberg View's Adam Minter, recent attempts to enforce anti-prostitution laws with limited manpower will end in failure, "driving the sex trade a bit further underground". He concludes that legalisation is the "obvious alternative", but it won't be easy.
Iran
The US underestimates its power - Iran is a "beleaguered middling power that may still be coerced into more expansive concessions" in the upcoming nuclear talks in Vienna, writes the Council of Foreign Relations's Ray Takeyh. The Iranian leaders are more afraid of losing their grip on power than they are on holding onto their nuclear weapons programme, he writes, which means that the threat of further US sanctions can be very powerful during negotiations. The US should not forget that it has the stronger hand when sitting down at the table with Iran, he concludes.
North Korea
Kim Jong Un's regime like Nazi Germany - A recently released report by the UN's Human Rights Council details "unspeakable atrocities" that the North Korean government is committing against its own people. On Monday former UK Ambassador to North Korea John Everard told BBC Newsnight that the report "makes harrowing reading", but it could have little impact if China decides to block action in the UN. Eventually change will come to North Korea, he says, but "it's probably going to be messy, and I have a sinking feeling that a lot of people are going to get hurt".
BBC Monitoring's quote of the day
Controversy over a disallowed Russian goal in the US-Russia Olympic hockey match: "The whole world knows that American TV companies have monopolized Olympic broadcasts and in order to please the fans in their country they do everything they can to keep American viewers interested in what is going on at the hockey rink in Sochi. According to their logic, Americans should always win, no matter what. It was absolutely obvious that [Fyodor] Tyutin's goal yesterday should have been allowed. This was clear to the whole world except the American referee, American TV and those officials with American passports who rule international hockey, grossly neglecting all Olympic principles." - Ivan Ilyin and Sergey Sokolskiy in Russian state-owned daily Rossiyskaya Gazeta
One more thing…
Living with old age - Roger Angell writes in the New Yorker about trials and tribulations of life in his 90s - from watching all of your contemporaries, including those you love, pass away and the constant reminders of a body slowly wearing down over time.
"Living long means enough already," he writes.
His sense of optimism endures, however, as he continues to enjoy the world around him.
"I've endured a few knocks but missed worse," he writes. "I know how lucky I am, and secretly tap wood, greet the day, and grab a sneaky pleasure from my survival at long odds. The pains and insults are bearable."
Have you found an interesting opinion piece about global issues that we missed? Share it with us via email at echochambers (at) bbc.co.uk.