What in the world: Should consumers love or hate Comcast's Time Warner deal?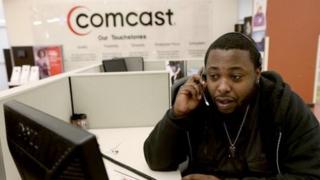 A review of the best commentary on and around the world...
Today's must-read
On Thursday Comcast confirmed that it has reached an agreement to purchase Time Warner Cable for about $45bn (£27bn), which would give the combined company control of three-quarters of the US cable market.
The deal still has to be approved by US government regulators, but early reaction to the announcement has been decidedly split.
The Motley Fool's Alex Planes writes that while the purchase is good for Time Warner shareholders, it's bad for consumers. Both companies already have very poor customer service reviews, he says, and the deal makes matters worse.
Digital Trend's Andrew Couts has a similarly pessimistic view.
"History shows us that this deal will likely stifle competition, slow innovation, reduce content options, shut out potential competitors and boost prices for customers all at once," he writes.
Bloomberg View's Matthew C Klein, on the other hand, thinks consumers may actually benefit, as a larger Comcast will be better able to negotiate with content-producing networks for lower programming costs.
"Saving money on content would allow the enlarged Comcast to improve Internet access and speed - areas in which the US lags behind other rich nations," he writes.
The editors of the Chicago Tribune agree. Although the new Comcast will be a cable giant, they argue in an editorial, it's got plenty of competition from other entertainment sources, which will keep prices down.
"As this diversity of service options rapidly expands, the reflexive distrust of big-company mergers loses its oomph," they write. "In this realm consumers rule: They increasingly have the freedom to abandon any provider that tries to gouge them."
Syria
Neglecting the Kurds - Moderate Kurds in the north-eastern corner of Syria have successfully battled the Syrian government and Islamic extremists, writes Michael Rubin in the Wall Street Journal. The US state department has refused to allow Kurdish representatives into the Geneva peace talks, however. He argues that this is because the US fears angering Turkey, the Kurds aren't co-operating with the leading Syrian opposition, and the Kurds and President Bashar al-Assad's forces currently have a truce. He concludes that these aren't valid reasons for the US to make the "secular, pro-American" Kurds pariahs.
Egypt
Moscow's Egyptian gambit - By clearly backing Egyptian Field Marshal Abdul Fattah al-Sisi, Russia is making a serious play to increase its influence over its erstwhile ally, writes BBC Defence Correspondent Jonathan Marcus. The move puts pressure on the US, he concludes, which must realise that "Cairo has choices and friends elsewhere".
China
Hong Kong's indentured servants - Every year more than 320,000 Indonesian women travel to Hong Kong to work as live-in maids, often in slave-like conditions, writes Gratiane de Moustier in the New York Times. Hong Kong law contributes to this problem, she continues, by allowing companies to garnish the maids' wages to pay for training debts, limiting their movement and permitting less-than-minimum-wage salaries.
Nigeria
Crime and suffering on the Niger Delta - Sabella Abidde in Punch calls the Niger Delta a "major cesspit, the cathedral of immoralities", where despite great natural resources the people live in poverty and gangs run wild. "There can be no peace in a region where the natives are indentured servants even though they are the nation's breadbasket," she writes. "There can be no peace in a region where state governors do nothing but steal and corrupt the political system."
United Kingdom
The US should use British drone missiles - British Ambassador to the United States Peter Westmacott writes in Defense One that the US and the UK have a long history of military co-operation, dating back to World War Two. In keeping with this spirit, the US Reaper drones should use a British-designed missile, the Dual-Mode Brimstone, which he says is the best on the market. "It makes sense to buy equipment that your allies have already developed, rather than invest millions or billions of dollars of taxpayers' money to duplicate what's already available," he argues.
South Africa
The tragedy of public healthcare - Contentious health care debates aren't the sole province of the US. Leon Louw in Business Daily writes that Health Minister Aaron Motsoaledi has been scapegoating insurance and pharmaceutical companies, private hospitals and poor lifestyle choices to cover up for the failure of the public health system. "The greatest benefactors of humanity, creators of medicines, have been subjected to vicious denunciation by Motsoaledim," he says.
Sudan
A lack of information on malnutrition is jeopardising children - The government of Sudan "has generally done all it can to obscure humanitarian realities in Darfur", writes Smith College Prof Eric Reeves in the Sudan Tribune. He says that UNICEF has been uncooperative in releasing important details on the level of malnutrition among children in Darfur, instead directing all requests to the Sudanese government. He fears that Sudan is withholding the data in order to force international aid organisations to direct more funds to government coffers.
BBC Monitoring quote of the day
Opposition representatives at the Syrian peace talks: "They are not negotiators, they are a delegation defending terrorism on a platform claiming to fight terrorism... If these are the people who will be defending the rights of Syrians, then the Geneva talks are likely to stretch for decades equal to the number of decades our conflict with Israel has been going on because what is certain is that we are dealing with Zionists in Geneva, not with Syrians." - Editorial in the Syrian government's Al-Ba'th newspaper
One more thing…
The real purpose of Valentine's Day - Author Marina Adshade writes in Canada's Globe and Mail that there's more to Valentine's Day than crass commercialism. It provides a useful time to re-evaluate relationships and "assure your romantic partner that all the time and energy that he or she is investing into your relationship is not being wasted". That doesn't mean you have to spend lavishly on your significant other, she concludes, but it's important to show him or her that you understand their needs.
Have you found an interesting opinion piece about global issues that we missed? Share it with us via email at echochambers (at) bbc.co.uk.