What in the world: A new 'special relationship' for US and France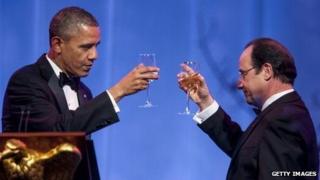 A review of the best commentary on and around the world...
Today's must-read
Tuesday night's White House state dinner for French President Francois Hollande has spurred talk of a new "special relationship" between the US and France.
The Washington Post's Dana Milbank called it a "love affair" between President Barack Obama and Mr Hollande. He notes that when a reporter asked if France was replacing the UK as the US's greatest ally, Mr Obama demurred and said the nations were like the daughters he loved equally.
The French public adores Mr Obama, Milbank writes, as 83% of the French have confidence in him, compared to the roughly 20% who trust Mr Hollande. This display of support is, according to Milbank, "the sort of love Obama doesn't get much at home anymore".
NBC's Chuck Todd writes that Mr Hollande's fancy Washington reception was a way for Mr Obama to lavishly apologise for backing away from attacking Syria after France announced it was on board with a military strike.
Philippe Coste of L'Express writes for CNN that both nations have been chastened - the US by its responsibility for the 2008 economic crisis and foreign policy missteps and France by its president's sexual indiscretions. It is Mr Hollande, however, who is most in need of a helping hand:
With unemployment still rising in our country, social and fiscal unrest brewing at the door of a seemingly insecure government, a tap on the back of the Friend in Need, some heartfelt praise during a beautiful dinner at the White House would go a long way at home and do more, in the short term, for the French bruised ego than any rehashed remembrance of Lafayette.
China
Trade data looks awfully suspicious - Chinese imports and export numbers are rising, but Lily Kuo writes for Quartz that the figures for the world's second-largest economy may be overinflated. The Chinese have been inaccurately filling out paperwork, resulting in false reports of growth. Jackson Wong from Tanrich Securities tells the Financial Times that "everyone knows we can't take these [China] export/important numbers seriously". Despite global awareness, Chinese companies continue to use over-invoicing to smuggle billions of dollars into the country.
Russia
Moscow is openly ignoring a key nuclear arms treaty - Moscow has been ignoring the Intermediate-range Nuclear Forces Treaty (INF) since 2008, write Keith B Payne and Mark B Schneider in the Wall Street Journal. Breaking arms treaties is "not new" for Russia, they contend, but the more recent trend has proved the "little importance" President Vladimir Putin places on honouring agreements with the US. The most concerning issue for the authors, however, is that the Obama administration waited until this past January to acknowledge the lack of Russian compliance. Ignoring the problem "avoids immediate friction, but further nuclear accords will be meaningless, even dangerous" if the US doesn't enforce current arms treaties.
Qatar
New sheikh wisely ends over-spending - For years, writes the BBC's Bill Law, Qatar has been spending its wealth on an endless list of grand projects. These include investment in banks, aiding rebel groups, cultural enhancement and the 2022 football World Cup. That changed when the emir abdicated and his son Sheikh Tamim bin Hamad al-Thani was named his successor. Sheikh Tamim has immensely scaled back spending, particularly for World Cup preparations. Qatar couldn't continue to pour millions into development as costs "continue to balloon". Experts and Qatari citizens applaud Sheikh Tamim for the "sensible decision", Law continues, as many saw the previous investments as "too fast for comfort".
Taiwan
Is China making Taiwan an offer it can't refuse? - Diplomats from Taiwan and China formally met together for the first time in 65 years. The relationship is more peaceful than ever, says Isaac Stone Fish in Foreign Policy. Taiwan is still tentative about unifying with China, however. At the same time, Chinese leader Xi Jinping is growing annoyed at the separation between the two nations, Fish contends, and will use his country's economic muscle to force the issue.
Japan
Right-wing inspired by past terrorism to fight media - There are growing calls among the conservative fringe in Japan to do "battle" against the "brainwashing" anti-Japanese mass media. Waseda University Prof Norihiro Kato recalls a previous era where the right-wing terrorist group Sekihotai created its own blacklist, which included Kato himself. Yet the Sekihotai worked in secret, and dissolved in 1990. Kato argues that "the descendants of Sekihotai" are resurfacing to attack the media. He says "a shift in national mood has made such secret, shadowy groups unnecessary".
Germany
To be a European leader, Germany must give its military more freedom - "Feel good about yourself - and feel responsible for others," writes Jochen Bittner, political editor for Die Zeit. German President Joachim Gauck and new foreign and defence ministers have argued that Germany's post-war guilt has caused the nation to become lazy. Bittner agrees, saying Germany has lacked participation and enthusiasm for international affairs. He believes the solution to this apathy is for the German parliament to grant a general mandate to army units. The military would then be able to use force without seeking parliament's approval if done through Nato or the EU. If Germany wants to become a legitimate player in world politics, it needs to help create "a true European defence capability".
El Salvador
Officials can't avoid El Mozote investigation - When the Inter-American Court announced in 2012 that the El Mozote massacre in El Salvador violated international human rights laws, El Salvador was instructed to investigate the murders of more than 1,000 villagers. But until forensic teams from the US, Argentina, Guatemala and Bosnia-Herzegovina visited last week to offer advice, there was no progress. Andrea Lampros from the Huffington Post writes that El Salvador has been burdened by handling a brutal gang war. That shouldn't put the El Mozote investigation on hold, however; instead, El Salvador must follow through with the Inter-American Court ruling and take "rapid next steps" that can culminate in justice.
BBC Monitoring quote of the day
Iranian revolution 35th anniversary celebrations: "Yesterday, the Iranian people made the job of the media from the arrogant countries harder because they were interested in showing cold and empty streets. But there was no empty space in Tehran streets or other parts of the country to provide an excuse for the BBC and CNN to say that the Iranian people do not support their revolution and political system anymore because of [UN] resolutions, economic pressure and sanctions." - Hassan Rashvand in conservative Javan.
One more thing…
In the Olympics, a bronze is better than a silver - Bloomberg View's Cass R Sunstein takes a look at research into the relative happiness of Olympic medal winners. Gold medalists were thrilled, obviously, but silver medals appear to enjoy their situation much less than the third-place bronze recipients. The reason, he explains, is that silver place finishers tend to focus on how close they came to winning and wonder about the little things they may have done wrong. Bronze medalists, on the other hand, focus on how close they came to not medalling at all. It's a glass half-full/half-empty situation that even non-Olympians can learn from.
Have you found an interesting opinion piece about global issues that we missed? Share it with us via email at echochambers (at) bbc.co.uk.