What in the world: Is Michael Sam being 'selfish'?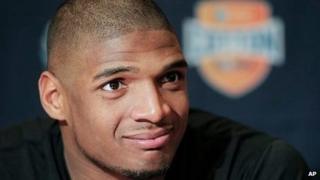 A review of the best commentary on and around the world...
Today's must-read
On Monday we covered the announcement by pro-football prospect Michael Sam that he is gay, offering the possibility that he will become the first openly homosexual player in the National Football League.
We noted that "all of the commentary that has been published on the Sam story so far has praised the player for his bravery". That has since changed.
Talk radio host Michael Brown in his Tuesday column on the conservative website Townhall asks: "This is something to be celebrated? Announcing you are same-sex attracted is a major media event?" He wonders whether players will be able to be as "physical and free with a homosexual teammate".
He calls Sam's announcement selfish:
Sam has now put his own desires - wanting to be out and proud - above the good of the team, saying to everyone else, "Whether you're uncomfortable or not, and whether this helps the team's synergy or not, this is who I am."
He should have just kept his "private life private", he concludes.
Meanwhile, Jennifer Leclaire, editor of the Christian website Charisma News, writes that she is praying for Sam, "who the radical gay agenda will use as its poster child".
She also agrees that Sam should have kept the news to himself.
"There have been many professional sports players who were gay and didn't go to great lengths to hide it - but didn't feel the need to sit with major media and discuss it, either," she writes.
Switzerland
Immigration quotas reveal Swiss lack of identity - David Nauer writes in Der Spiegel that the Swiss identity "is based on a rejection of neighbouring Italy, Germany and France." By voting in favour of immigration limits, he writes, the Swiss are showing that they don't want to share the one thing that makes them unique - their riches - with new arrivals. By doing so, however, they may precipitate their economic decline.
Roman Catholic Church
UN report on molesting priests misses the mark - The United Nations Committee on the Rights of the Child "blundered" by criticising the Vatican for its contraception, homosexuality and abortion policies, writes the Tablet editor Paul Vallely, instead of targeting its investigation of the Catholic Church solely on the cover-up of sex abuse by priests. "The focus on child abuse has been lost in the row, with Vatican apologists tweeting about the Holy See being ambushed by a kangaroo court," he writes.
France
Hollande abandons socialism - French President Francois Hollande has dropped the "socialist" label and is calling himself a "social democrat". His move to continue austerity shows he is "enshrouded in an ideological fog", writes Peter Gumbel for Bloomberg View. Mr Hollande "will have to demonstrate to his jaded and skeptical fellow citizens that he really has a plan, and that his latest shift isn't merely more obfuscation".
India
Social inequality and joblessness a ticking time bomb - Sanjoy Narayan writes in the Hindustan Times that underemployed and disillusioned youth could someday become angry mobs. "For the safely cocooned well-heeled classes, including those such as this writer, inequality is an uncomfortable matter better swept under the carpet, as if it is an issue that is visible yet unseen," he writes. "For how long, though?"
Thailand
Elections bring no resolution to crisis - The BBC's Jonathan Head writes that while the 2 February elections were not marred by "serious violence", protests were disruptive enough to force further voting to reach required participation levels. Both the government and the opposition still think they will prevail in the end, he writes, and it seems that a compromise will be necessary if the standoff is to be resolved. He cautions, however: "If there is a deal, a grand bargain, on the horizon, to end Thailand's crisis, it is not visible yet."
Nato
Missile defence gives Europe and the US a new mission - Nato Secretary General Anders Fogh Rasmussen writes that Nato must focus on a missile defence of the European continent. "Where once we lined up tanks along borders, we are now building a complex system that requires a range of high-tech contributions from many allies - on land, at sea, and in the air," he writes. "Nato's missile-defense system is what transatlantic teamwork looks like in the twenty-first century."
Japan
A city dying of old age - Le Monde's Philippe Mesmer profiles a town in Japan where nearly half the residents are over the age of 65. Although the town is an extreme example, he writes, all of Japan is facing the challenge of an aging population. "Authorities are not doing much, especially not for the declining birth rates," he writes. "And Japan remains hostile to immigration, except when it comes to compensating immediate and specific needs."
BBC Monitoring quote of the day
Pakistan-Taliban peace talks: "The US must keep its word and halt drone attacks during the talks. If it fails to take account of the sensitivity of the situation, people would be right to believe that the US is not a friend anyone." - Editorial in Wahdat, a Peshawar-based pro-Islamist Pashto daily widely read in north-west Pakistan and Afghanistan
One more thing…
Giraffe death an indictment of zoos - When the Copenhagen Zoo euthanized a giraffe due to fears of inbreeding, it made world headlines and prompted a public outcry. If you're really upset about the story, Mimi Bekhechi writes in the Independent, you should stop going to zoos, which are "incarcerating intelligent animals for profit". She continues: "We wouldn't go to a prison to learn about typical human society, so it makes no sense to observe imprisoned animals in order to learn about them."
Have you found an interesting opinion piece about global issues that we missed? Share it with us via email at echochambers (at) bbc.co.uk.