Michael Sam: Will being gay affect the NFL prospect's career?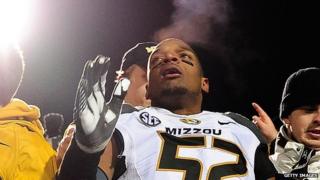 This is not Brian Boitano coming out of the closet. Figure skating is not the National Football League.
This isn't even like Jason Collins's revelation, which came after a decade spent as a journeyman in professional basketball.
No, University of Missouri football player Michael Sam's announcement to the New York Times and ESPN that he is gay arrives during a critical time at the beginning of his sports career - mere months before a draft in which NFL teams will decide where - or if - he plays professional ball.
Sam isn't just any football player, either. He was defensive player of the year in arguably the toughest college conference in the nation. Before his announcement, many NFL analysts expected him to be chosen early enough in the draft to ensure he'd end up on a professional roster, paid hundreds of thousands of dollars a year for his services.
Now sports columnists and commentators are wondering if the prospect of being the first openly gay player in the NFL will affect how quickly he is selected in a process where the earlier you are picked, the more you get paid.
Sports Illustrated's Pete Thamel and Thayer Evans quote several anonymous coaches and scouts who say that Sam's NFL draft outlook will be adversely affected.
"In blunt terms, they project a significant drop in Sam's draft stock, a publicity circus and an NFL locker room culture not prepared to deal with an openly gay player," they write.
Come selection day, some teams may choose not to pick Sam because of the extra attention such a choice would generate.
"During the draft, a team that has Sam graded barely above another pass-rush prospect in the third or fourth round may ask itself: Will all the distractions - the network news trucks, the questioning of his teammates about accepting a gay teammate - be worth it?" asks Sports Illustrated's Peter King. "Or should we just draft the other guy and not worry about Sam's off-field stuff?"
CBS's Pete Prisco writes: "I applaud Sam. But what he's facing won't be easy."
That view isn't unanimous, however. Sam's move may have actually improved his standing among some NFL teams, writes USA Today's Jarrett Bell. Most NFL coaches already knew the Missouri standout was gay, as he had told his teammates last summer. How he chose to address it, Bell says, tells the NFL a lot about his character.
"His bold move, less than two weeks before Sam will be timed, tested, examined and interviewed along with about 200 other prospects by teams at the NFL combine, may have raised his draft stock in some eyes because of his courage," he writes.
All of the commentary that has been published on the Sam story so far has praised the player for his bravery. If there is going to be a non-anonymously-sourced media controversy on this topic, it will likely come from a slip of the tongue or a gaffe.
When Collins made his announcement, for example, Daily Beast columnist Howard Kurtz lost his job after criticising the former NBA star for never mentioning that he once "was engaged. To be married. To a woman." Collins was, in fact, very public about that fact.
To get an appreciation for the vitriol Sam will face doesn't take much effort, however. In the hours after the Times and ESPN stories ran, sports message boards filled up with commentary, some hateful, directed toward the Missouri standout.
Draft day always has its share of surprises, with players selected at unpredicted times. Now, however, Sam's situation is going to be watched through a different, more political lens. If he goes early, is that because a team is making a statement about gay rights? If he goes later, is it because teams are shying away due to his sexual preference?
Already some have argued that Sam is too small to play in the NFL and his statistics in college were "inflated", as one scout told Sports Illustrated. Will that be used as an excuse to avoid picking him? Or is it valid justification for going another direction on draft day?
Someday these kinds of questions may not be asked about an openly gay man who wants to play in the NFL. But not this year - not for Michael Sam.