Sochi Olympic success: Russia and the West have differing views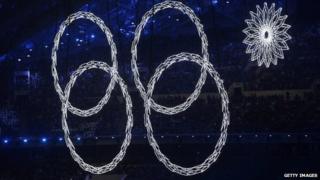 As the 2014 Winter Olympics in Sochi get under way, there's been a great deal of discussion about how Russia is being perceived by the world.
In this week's Face Facts, BBC's David Botti discusses a Pew Research report that found only nine out of 38 countries surveyed have favourable views of the Olympic host. Within the US, 44% of Americans said they think holding the games in Russia was a "bad idea".
This pessimism toward the games has been reflected in constant complaints from journalists in Sochi and a steady drumbeat of dour commentary across the West.
"The strong-armed dream of Russian President Vladimir Putin has thus far succeeded not in embellishing the Olympic motto, but altering it, from 'swifter, higher, stronger' to, 'unfinished, unsettling and uninviting,'" writes the Los Angeles Times's Bill Plaschke.
"There is no doubt that the Sochi Olympics is a genuine fiasco, one of the biggest in Russia's modern history," Nadav Eyal writes in Israel's Ma'ariv. "The mere scandalous decision to hold the winter games in one of the hot cities of Russia testifies somewhat to megalomania, but from here the problems only gradually piled up."
"Today's Sochi opening is marked by the cost, the threat of terrorism and the gay controversy," Spain's El Mundo editorialised. "These are the most expensive games in history. Putin wanted to make a show of strength in his bid to return Moscow to the global pre-eminence it had during Soviet Times."
"Putin's Russia is weak, tawdry, and corrupt - and underserving as an Olympic host," writes the World Policy Institute's Nina L Khrushcheva in the Japan Times. "The atmosphere surrounding the Sochi Games reflects many of Russia's worst traits."
Jean Vanempten of the Belgian Dutch-language De Tijd writes that Russia is no different than any other Olympic host, not that that's a good thing.
"All organizers suffer from the same megalomania," he writes. "Just think of the Olympic infrastructure in Athens that is languishing in a poverty-stricken Greece. This infrastructure stands for the systematic killing of the Olympic spirit in an orgy of self-congratulatory bidding."
Inside Russia, however, the view is more positive, with many writers heralding the potential of the Olympic Games to showcase their nation and its leader.
"Regardless of how many medals our national team ends up with, Russia can already be considered a winner," writes Igor Naumov in the Nezavisimaya Gazeta. "[International Olympic Committee] head Thomas Bach has spoken highly of Sochi's readiness for the 2014 Games. Can't argue with that: the scale of Olympic construction has been unprecedented. Over the past seven years, Sochi became the world's biggest building site."
Boris Mezhuyev in Izvestiya writes that Russia is the "top leader in the view of the global media community":
The whole world is discussing the Russian leader: observers have so far been looking for an answer to the question 'Who is Mr Putin?' Partly this is linked to the Russian president's personal qualities, but partly this is stipulated by Russia's strange place in geopolitics and entire history.
He compares Mr Putin to the Jonathan Swift character Gulliver, pinned down for years by the world's Lilliputians:
People see that very awakened Russian Gulliver in Putin and fear it. No illusions are needed: generally speaking, Russia will not elicit any other associations in Europe for the next 100 years. We are doomed to be Gulliver in Europe's eyes either securely tied and tamed or having his shoulders set back and being capable of bringing enemy ships to a foreign harbour. So it is good if the Russian leader prefers the second image to the first one.
Mr Putin has been challenged before, says Aleksandr Lenin in the state-owned Rossiyskaya Gazeta, and he always comes out on top.
"It has become a usual practice for the Russian president to win contests like this," he writes. "Experts have repeatedly said that not so much image-makers as the Russian president's personal qualities help him achieve so effective results. This is, first of all, charm, wit and even brutality, which is often necessary for the job of a politician."
There is one country that is standing by Russia, at least in its media, however: China.
"Some quarters have tried to politicize sports and have vowed to boycott the Sochi Winter Olympics, claiming that Putin chose to host them to flaunt his strongman image. In this situation, the attendance of Chinese leaders has become even more precious," Ruan Zongze writes in Beijing's People's Daily. "Sochi is now covered with snow and ice, but Sino-Russian ties remain warm."
And Hong Kong's Oriental Daily commented:
When US Vice-President Joe Biden visited Beijing, he spared no effort in trying to convince [Chinese President] Xi Jinping not to attend the Sochi Winter Olympics in exchange for US pressure on [Japanese Prime Minster Shinzo] Abe. China has not fallen prey to this... The Sino-Russian alliance is a powerful weapon for defeating the US-Japanese alliance.
The BBC's Botti notes that while many have criticised the Sochi Olympics as its opening approached, public opinion can change when focus turns from politics to the athletic competition.
"Pew found that before the Beijing Games in 2008, a large number of Americans found that having them in China was a bad idea," he says. "But once the Games were underway, that number went down - and more than half were satisfied."
The start of the Olympics in Russia has had a few glitches, but as soon as Americans - and other Western athletes - begin taking their place on the winner's podium, the politics may give way to patriotic pride.
(From information provided by BBC Monitoring.)