The last days of Leno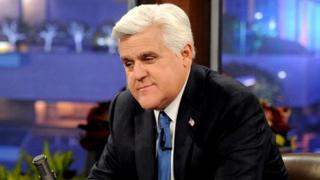 On Thursday Jay Leno signed off as host of The Tonight Show for the last time. Folk music icon James Taylor sang Sweet Baby James, which Leno said reminded him of the early days of his career.
Wait, that's how Leno said goodbye five years ago, when he handed the show off to Conan O'Brien for an ill-fated seven-month run, before taking the reins back after the show's ratings dropped precipitously.
This time Leno ended with the now largely forgotten country music megastar Garth Brooks performing I've Got Friends in Low Places, a song about alcohol and ignominy.
It was a tongue-in-cheek counterpoint to Leno's first, sentimental send-off - a fitting way to end a 22-year run that has seen the comic sit atop the late-night ratings heap but never receive the critical acclaim that his predecessor, Johnny Carson, and contemporary, CBS host David Letterman, enjoyed. Leno may not have been a media darling, but his "friends in low places" across the country tuned in every night.
The ambivalence from entertainment journalists was on display once again this week, as Leno's Tonight Show tenure came to a close. While many writers lauded his endurance over the years, it was usually with a caveat, a nod to a lack of innovation or style. A man whose "jokes have been a kind of comedic Muzak for late night", in the words of the Toronto Star's Tony Wong.
He is a celebrity who "will barely be missed come Monday morning", says the New York Times' Alessandra Stanley.
"Johnny Carson's departure from The Tonight Show was an abdication," she writes. "Jay Leno's last show, on Thursday, was closer to a retirement party - a bittersweet send-off for a loyal executive pushed out after 22 years."
She continues:
Throughout his tenure, Mr Leno was both friendly and oddly impersonal: he was a skilled joke teller who didn't let down his guard or his hair. He wore dark suits and delivered his monologue framed by somber wood paneling and potted plants, a decor better suited to a personal injury law firm.
Time magazine TV critic James Pniewozik explains why television viewers either love Leno or hate him:
One thing Jay's fans and detractors respond to in him is that he looks at hosting not as art or an exalted calling but a job. If you love him, it means he doesn't put on airs but just works damn hard to help people unwind and laugh five nights a week. If you hate him, it means that he was a careerist who took his comedic gifts and wasted them by watering down his comedy to appeal to the biggest audience possible.
History will judge Leno kindly, says entertainment blogger Ed Bark. Although he was a "plodder, not a craftsman" (again with the qualifications), "ratings don't lie".
"I think Leno's stature slowly will improve with age as the undisputed 'people's champ' in times when TV critics for the most part dismissed him as a lightweight," he writes.
The Los Angeles Times' Robert Lloyd agrees.
"Let us, just for this moment, admit that mass appeal is no sin, nor pleasantness a crime," he writes. "As (still) the most popular host in late night, Leno made many happy, and no one's happiness is less real than another's."
The Tonight Show franchise "just got a little smaller", writes Variety's Brian Lowry :
Leno's apparent emotional health and single-minded devotion to performing - harboring a struggling standup comic's mentality and work ethic, even at the pinnacle of his career - may have made him less interesting than some of late-night's other personalities and his comedy contemporaries (Letterman among them). Yet his aw-shucks demeanor - despite getting a second shove toward the door while sitting atop the late-night ratings - both appears to have served him well and simultaneously made this baton pass seem less momentous.
Leno's forced retirement has prompted other writers to speculate about the future of his replacement, Jimmy Fallon.
The Guardian's Ed Pilkington writes that in Fallon's hands is "nothing less than the sustainability of the late-night comedy genre that was pioneered by The Tonight Show in 1954 but is now a pale reflection of its former glory, battered by fierce competition from Jon Stewart's Daily Show and the like as well as the chill blast of the internet".
He observes that O'Brien's failure as Leno's replacement five years ago was because he alienated the show's older viewers. "Fallon will now be under pressure to hang on to as many loyal Leno viewers as he can, while gradually transitioning to a younger crowd," he writes.
But Fallon shouldn't stray too far from what has made him successful as host of the talk show immediately following Leno, cautions Mediaite's Matt Wilstein.
"If Fallon is going to be the late night host for the future that NBC hopes he can be, he needs to be doing more of the type of comedy that lives on into the next day, getting passed around feverishly on Facebook and YouTube and turned into GIFs on Tumblr," he writes. "He may be growing up by taking on The Tonight Show, but that doesn't mean he needs to grow out of what his fans love so much about him."
Leno is a relic of the past, he continues, and Fallon should be careful not to try to be too much like the departing host:
Leno may come from a world in which people "miss the news" and need a late night monologue to catch up, but Fallon comes from one in which people already looked at more news than they can handle on the internet and their phones all day long. By the time 11:30 rolls around, they want something more. And that's what Fallon should be giving them.
That may be a key to Fallon's success - or it could be an indication that the end of the late-night comedy kings is approaching, as older viewers, like Leno, slowly make their exit.