What in the world: NY Times ripped by anonymous employees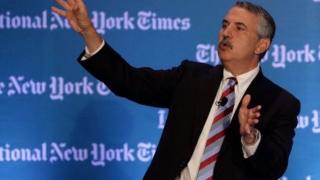 A review of the best commentary on and around the world...
Today's must-read
On Wednesday the New York Observer published a cover story by the paper's editor, Ken Kurson, which pulled alongside the New York Times opinion page and opened fire with all guns blazing.
Based largely on anonymous sources within the Times itself, Kurson paints an extremely unflattering portrait of opinion page editor Andrew Rosenthal and some of the paper's more prominent columnists (cough, Thomas Friedman, cough). He reports that the opinion page and its staff are resented and ridiculed by many of the paper's other employees, one of whom calls the section "a waste of money".
"There is suddenly evidence that the festering dissatisfaction with the edit page has broken into what one reporter dubbed 'semi-open revolt,'" he writes. "One reporter says that he literally will not allow Mr Rosenthal to join their lunch table in the cafeteria."
Outside of the article's backbiting and gossiping reminiscent of a bad high school drama (which of course is fun reading), the article makes a larger point that the unsigned editorials in the Times have become "tired and irrelevant", lacking the influence and interest they once had.
This is not a development that is unique to the Times, however, as many journalists are grappling with how to have an editorial-page identity in journalistic universe that is awash in opinion.
On Wednesday, New York Times Executive Editor Jill Abramson responded in a letter to Capital New York, calling the Observer's article a "crazy rant of someone with an agenda". She continues:
Andy Rosenthal is my cherished colleague and the editorial page he runs (independently of the newsroom as has been true at The New York Times forever) serves as the good conscience of our readers, always topical and urgent and compelling, more so under Andy's leadership than any editor I can name.
Turkey
Prime Minister Erdogan will be among friendly fellow despots in Sochi - While many Western leaders have decided not to attend the 2014 Winter Olympics, Turkish Prime Minister Recep Tayyip Erdogan will make the trip. Hurriyet's Barcin Yinanc writes that the Turkish leader will feel comfortable standing beside Russian President Vladimir Putin and Chinese President Xi Jinping because they are all "authoritarian rulers disguised in democratic sheep's clothing".
Edward Snowden and the NSA
Will journalists be prosecuted for publishing spy leaks? - Glenn Greenwald, formerly of the Guardian, was instrumental in bringing information on the National Security Agency's spying programs leaked by Edward Snowden into the public eye. He tells Salon's Brian Beutler that he is getting more concerned that he could be arrested if he returns to the US from his current home in Brazil, but he eventually will make a trip back to "force the issue". "As the story kind of went on I thought the prospect of something happening to the journalists would dissipate to zero," he says. "I actually think that the risk is higher than it's ever been."
Egypt
Did al-Jazeera reporters aid terrorists? - The Egyptian government is currently imprisoning 20 journalists, including four foreign nationals, accusing them of being members of or aiding a "terrorist organisation". Salah Negm, director of news for al-Jazeera's English language channel, talks with BBC Newsnight about the four reporters from his network that have been detained.
"It is actually fabrication, nonsense, and intimidation and irritation of journalists in order to get one side of the story coming from Egypt only," he says. The interview becomes a bit contentious when the topic turns to whether al-Jazeera journalists in Egypt had press credentials issued by the Egyptian government.
Myanmar (Burma)
Presidential roadblocks for Aung San Suu Kyi - A clause of the Myanmar constitution stating that presidential candidates cannot owe their "allegiance to a foreign power" could prevent former dissident Aung San Suu Kyi from running for her nation's top office. BBC's Jonah Fisher writes that beneath the surface, little has changed in the South East Asian nation: "The power wielded by Burma's army remains largely untouched, and there's so far been no sign that after decades at the helm the generals are going to start taking orders from civilians."
Spain
Will conservatives miss the Basque militants? - Luis R Aizpeolea writes in El Pais that now that the Basque militant group ETA has renounced violence, many conservatives have lost "their whole political raison d'etre". He continues: "The struggle against ETA was a key mobilizing and unifying element for the center-right during the governments of Prime Minister Jose Maria Aznar."
Africa
Anti-poaching trade bans do more harm than good - Prohibiting the export of products from endangered animals has done little to stop the booming trade in elephant tusks and rhinoceros horns. Alexander Kasterine argues in Foreign Affairs magazine that much like the war on drugs, making the trade illegal only enriches black-market traffickers and international crime syndicates. Instead, trade should be legalised and regulated by governments, despite objections from "moralizing conservation organizations".
North Korea
A Western education in Pyongyang - BBC Panorama takes a look at the Pyongyang University of Science and Technology, a Western-style school for the children of North Korea's leaders with a faculty of foreign professors and funded largely by Christian charities. "The teaching staff come here with the best intentions for these students and this country," says BBC's Chris Rogers. "But is it right to be educating the future elite of one of the most oppressive regimes in the world?"
BBC Monitoring's quote of the day
Talks between Pakistan and the Taliban: "We believe the Taliban groups that are supporting the talks process should take up arms against those who want to sabotage the talks through terrorist attacks, to foil their designs and make the talks a success. The law enforcement agencies too should trace the groups that are involved in the attacks so that they could be separated from the talks process and action could be taken against them." - editorial in Nawa-i-Waqt (a Rawalpindi-based conservative nationalist Urdu daily)
One more thing…
Is the internet creating a wealth of pop-culture religions? - Some are living according to the ethical teachings of My Little Ponies. Others heed the words of the Dude in The Big Lebowski. When do internet fan sites go from dedicated interest groups to religious devotion? Jim Bartlett of the think tank Demos writes: "Given that our lives are surrounded by pop culture - often containing complex moral stories, fables, lessons - it stands to reason that some people simply adapt stories from there and build their own ethical systems and spiritual belief from that."
Have you found an interesting opinion piece about global issues that we missed? Share it with us via email at echochambers (at) bbc.co.uk.