What in the world: Obamacare numbers game and denying the Nanjing Massacre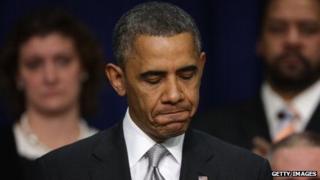 A review of the best commentary on and around the world...
Today's must-read
The non-partisan Congressional Budget Office released a report yesterday on the US economic outlook for the next 10 years, including the impact of President Barack Obama's health care reform (you can read all 182 pages here, if you're a glutton for punishment).
A controversy quickly ignited over the meaning of the CBO's numbers - particularly the finding that 2.3 million fewer Americans will choose to work full-time by 2021 as a result of the law.
The Washington Post media blogger Eric Wemple takes a look at how the media covered the story, including initial reports that the 2.3 million number represented job losses and not a smaller full-time labour force.
"For a while this morning, the Internet was hopping with job-killing hype, when in fact the truth was vastly different," he writes.
As for an actual debate on whether a shrinking full-time workforce is good news or not, the Los Angeles Times' Michael Hiltzik says yes, quoting economist Dean Baker:
It helps "older workers with serious health conditions who are working now because this is the only way to get health insurance. And (one for the family-values crowd) many young mothers who return to work earlier than they would like because they need health insurance. This is a huge plus."
Conservative Intel's David Freddoso says no:
This is what we usually call a "perverse incentive." When government makes you worse off for doing things like working - as it could, for example, by imposing a 150 percent income tax - that's usually considered a bad thing.
True or not, expect to see plenty of "job-killing Obamacare" Republican campaign adverts citing the CBO report when the November congressional elections rolls around. Nuance isn't exactly a high priority in 30-second attack spots.
Japan
Public broadcasting executive denies World War Two massacre - The acting governor of Japanese public broadcasting network NHK, Naoki Hyakuta, called the Nanjing Massacre a "fabrication designed to cancel out US atrocities". The American Interest's Walter Russell Mead writes: "In a free and open society, leading figures are free to say whatever they want, but this kind of inane speech is far from productive for long-term regional stability."
International Criminal Court
Criminal prosecution won't solve African civil wars - Former South African President Thabo Mbeki and the Makerere Institute's Mahmood Mamdani write that war crimes trials shouldn't be prioritised over political reform in countries where the winners and losers in a conflict have to live side by side. "Courts are ill-suited to inaugurating a new political order after civil wars; they can only come into the picture after such a new order is already in place," they write.
Georgia
So close to Sochi, so far from freedom - While human rights in Russia have become an issue during the run-up to the Winter Olympics, writes former US ambassador to Azerbaijan Matthew Bryza, no one seems to be talking about the ongoing Russian occupation of portions of Georgia. Western leaders need to "press for a genuine solution to Georgia's separatist conflicts", he argues.
Nigeria
The power of names - Writer and novelist Adaobi Tricia Nwaubani writes about the effect a name has on individuals, teams and even towns in African culture. "I have heard a number of people associate the paparazzi hunt that inadvertently led to Princess Diana's death with her being named after Diana, the goddess of hunting," he writes.
Iran
More executions under President Hassan Rouhani - The Washington Times's Guy Taylor writes that the growing number of executions in Iran, mostly by hanging, is probably because of a "secret power struggle within Iran's notoriously veiled political system".
Israel
Defending SodaStream and Scarlett Johansson - Last week we wrote about the controversy over actress Scarlett Johansson's Super Bowl commercial for SodaStream, a company that has a factory in the occupied territories. On Tuesday SodaStream chief executive Daniel Birnbaum told Newsnight's Jeremy Paxman that his company is "part of the seeds of the future of the Palestinian state". He said his company was proud of what they are doing.
Afghanistan
Secret talks with Taliban may save the day - If Afghanistan President Hamid Karzai can negotiate a peace with Taliban rebels, it could save his skin and prevent the nation from descending into chaos once US forces fully pull out, writes Bloomberg View's Noah Feldman.
BBC Monitoring quote of the day
US-Afghanistan relations: "The Afghans will thank the West for its assistance, but they will never forget that Westerners have set a record in committing 21st century crimes in Afghanistan." - Editorial in Afghanistan's Sarnawesht
One more thing…
A wine glass for Coca-Cola - Some people take drinking their sodas very seriously - or, at least, that's what wine glass maker Riedel hopes. The Globe and Mail's Beppi Crosariol writes: "If you really, really like Coke and can afford to blow serious coin, there would be more frivolous ways to spend your money."
Have you found an interesting opinion piece about global issues that we missed? Share it with us via email at echochambers (at) bbc.co.uk.