A treasury of Super Bowl political tweets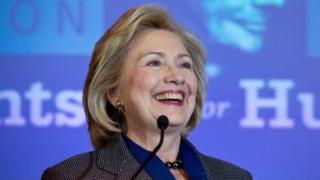 The game was awful, and the commercials were hit and miss. Fortunately, Twitter provided us with some enjoyable Super Bowl related humour.
First, there were tweets by 2016 presidential aspirants.
Former Secretary of State Hillary Clinton won Twitter for the night, receiving more than 55,000 retweets for this good-natured jab at Fox, which aired the Super Bowl broadcast and whose news network has not offered her the friendliest coverage: "It's so much more fun to watch FOX when it's someone else being blitzed & sacked!"
After the game started getting out of hand, Louisiana Governor Bobby Jindal reminded his followers that last year's Super Bowl in his state was delayed by a power cut at the stadium: "At least we turned the lights out in New Orleans last year to make it interesting. ‪#kidding‬"
Florida Senator Marco Rubio's tweets weren't humorous, but he certainly kept busy sharing keen insights like: "That edge run by Harvin now run twice trying to get Broncos to get OLB a little wider to open inside the tackles for Lynch."
Maybe he secretly wants to be a sports analyst?
And then there were tweets about 2016 presidential aspirates - or, rather, one presidential aspirant who has been the butt of many Twitter jokes of late.
Chris Keller of Southern California Public Radio: "Anyone check with Gov. Christie to see if he shut down access to the Broncos end zone?"
The National Memo's Harold Itzkowitz: "I hope Christie is introduced at the Super Bowl. I'm curious about what 70,000 people booing will do to my subwoofer."
The Nation's Dave Zirin: "I'm convinced that first half was a Broncos avant-garde performance art piece about the political future of Chris Christie."
As the game got out of hand, the Broncos began to bear the brunt of the jokes:
Writer/comedian Rob Fee: "Use the promo code PEYTON when ordering a Papa John's pizza & when it's delivered to your house, a Seattle DB will take it from you & eat it."
Author Theresa Couchman: "Denver, be honest: did one of your players refuse to aid an old woman who turned out to be a sorceress in disguise?"
Journalist Ronan Farrow: "Denver Broncos just really, really eager to get home for Downton Abbey."
And of course there were still political jokes to be made.
Author Martha Brockenbrough (and many, many others with similar lines): "Karl Rove just told Fox News the Super Bowl was still too close to call."
Salon's Brian Beutler, referencing the fact that both Washington and Colorado have legalised marijuana: "On the plus side for Denver, this is great in-kind advertising for the relative supremacy of Colorado weed."
The Federalist's Sean Davis: "Gotta hand it to Denver: their reenactment of the Obamacare rollout is pretty amazing."
And as the game's end drew near:
Slate's Dave Weigel: "Time to pack up the 'Broncos: Super Bowl Champions!' shirts for lucky kids in central Africa."
The National Review's Charles CW Cooke: "Tonight, Seattle's gonna party like the WTO's in town."
And, last but not least, an obligatory Starbucks joke from New York Daily News's Josh Greenman: "People are running through the streets of Seattle misspelling each other's names on cups."