What in the world: Voice of America's Lithuanian stir and EU needs UK security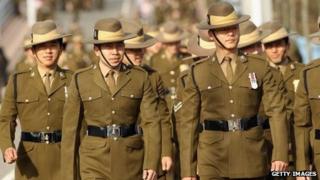 A review of the best commentary on and around the world...
Today's must-read
Philosophical certainty led to the Holocaust. This was one of the contentions in the 1973 13-part series from BBC called the Ascent of Man, hosted by Prof Jacob Bronowski, on human cultural evolution.
One episode, on the impossibility of certainty in the modern world, stuck in the memory of Simon Critchley. He writes in the New York Times that he watched the series as a child and was struck by a scene in episode 11, in which Bronowski stands in front of the remains of the crematoriums at Auschwitz and dips his hands in the pond containing the ashes of some of the people murdered there, who included members of his own family.
"This is what men do when they aspire to the knowledge of gods," Bronowski said.
Critchley writes:
The play of tolerance opposes the principle of monstrous certainty that is endemic to fascism and, sadly, not just fascism but all the various faces of fundamentalism. When we think we have certainty, when we aspire to the knowledge of the gods, then Auschwitz can happen and can repeat itself. Arguably, it has repeated itself in the genocidal certainties of past decades.
The entire 13 part series is available now in a DVD boxed set, and Critchely says he's rewatching it with his 13-year-old son.
Lithuania
Poor translation of Washington memoir causes controversy, thanks to Voice of America - Lithuanians should read news about Russia in a language other than Russian, political analyst and journalist Audrius Baciulis writes. About two weeks ago, the Lithuanian media reported a story stating that former US Secretary of Defence Robert Gates claimed in his book that including the Baltic states and Central European countries into Nato was the wrong decision.
A review of the original text revealed he wrote the opposite, but not before the story was disseminated to the Lithuanian public. The original source of the story was, ironically enough, from the US government's Voice of America Russian website Golos-Ameriki.ru. The erroneous report was then picked up and spread by Russian news services. Baciulis says reliable information regarding events in Russia "only comes from Western journalists working there".
Libya
Muammar Gaddafi's brutal reality - Christopher Olgiati, who directed the documentary Mad Dog: Gadddafi's Secret World, which will air on BBC Four on Monday at 22:00 GMT, writes that he has unearthed evidence that the Libyan strongman once ordered one of his own airliners shot out of the sky.
United Kingdom
European defence relies on UK leadership - Several European countries express concern that the UK is no longer necessary to the European Union. German diplomat Wolfgang Ischinger disagrees, writing that the UK is key in encouraging the rest of Europe to focus on security policy. Britain is "essential" in shaping Europe to increase awareness of global security.
Haiti
Money isn't the solution - Over four years after the deadly 7.0 magnitude earthquake that hit Haiti, Elise Jordan writes in the Daily Beast that there has been "minimal effort" to rebuild despite international support. Few organisations or donors have made an impact with the billions of dollars in aid. Instead of continuing to pour money into the country, "Haitians deserve a chance to fail or prosper on their own terms", she argues.
Russia
Putin is losing the Olympics - Russian President Vladimir Putin hoped the Sochi Winter Olympics would be his nation's chance to reassert itself on the world stage, writes the Washington Post's Jackson Diehl. Instead, "they are more likely to become a forum for the demonstration of how and why Putin's rule of Russia has failed - and how his power is ebbing both abroad and at home".
Argentina
Shrinking the peso and repeating history - Argentina's currency crises leaves a "mega-devaluation" inevitable, writes the Wall Street Journal's Mary Anastasia O'Grady. While some countries have learned from past economic failings, Argentina's leaders doomed to make the same mistakes again.
Cyprus
Seeking inspiration from Steve Jobs - Economist Theodore Panyotou says 75,000 people are currently unemployed in Cyprus because of "a mismatch between skills and jobs available". The solution, he writes, is to look to late Apple co-founder and CEO Steve Jobs and his "creative entrepreneurship". Cyprus can pull itself out of its unemployment crisis and become more engaged with globalisation and technology if "thousands of small Steve Jobs rise among the new generation".
BBC Monitoring quote of the day
The Sochi Winter Olympics: "There are 34 years of history between the 1980 Summer Olympics in Moscow and the Winter Olympics in Sochi... but it is like these 34 years simply did not happen… In Putin's Russia, the Olympics 2014 seem to be if not a swan song, at least not the first cry of a healthy and cheerful infant. The economic potential of the present authorities is close to exhaustion: everything has been divided, capital is hopping out of the country, and the economy, by contrast, is at a standstill… The USSR collapsed 11 years after the Moscow Olympics. See you in 2025?" - Editorial in Russian business daily Vedomosti.
One more thing…
The real rock of Detroit - There's been a lot of talk about singer/songwriter Bob Dylan's Super Bowl commercial for the American-made cars of Italian-owned Chrysler. "Is there anything more American than America?" he mystifyingly asks. If the automobile company wanted to have an authentic Detroit musical voice in its advert, it didn't have to turn to the Minnesota-born-and-raised folk legend. As author Steve Miller details in a Picture This video story for the BBC last October, Detroit has its own unique high-decibel sound.
Have you found an interesting opinion piece about global issues that we missed? Share it with us via email at echochambers (at) bbc.co.uk.