What in the world: Scarlett Johansson's Oxfam split and social media silence in China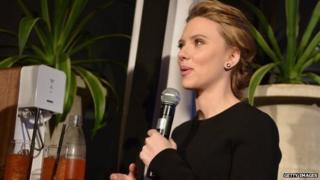 A review of the best commentary on and around the world...
Today's must-read
As we wrote on Monday, there was a controversy bubbling over actress Scarlett Johansson's role as spokesperson for the Israeli company SodaStream, which has a factory in the occupied territories, and her involvement as an ambassador with the international humanitarian aid group Oxfam.
The situation came to a head on Thursday, with Ms Johansson's announced resignation from her post at Oxfam.
"Suddenly SodaStream - and Ms Johansson - find themselves caught up in the bitter politics of the Middle East, and in particular the calls for a boycott of Israeli businesses that trade on the lands that Israel captured in the war of 1967," writes BBC Middle East correspondent Kevin Connolly.
The Jerusalem Post's Lahav Harkov writes that Oxfam made a fundamental error in parting ways with Ms Johannson.
"In a display of utter stupidity, it seems to have caved to the BDS [Boycott, Divestment and Sanctions] movement, since Sodastream, for which Johansson is shilling in a Super Bowl ad, has a factory near Maale Adumim," she writes. "Of course, Sodastream employs Palestinian workers in that factory with better salaries and benefits than they would get working for a PA [Palestinian Authority] company, but Oxfam clearly won't let facts get in the way of its preconceived anti-Israel notions."
The Guardian's Vijay Prashad counters:
Small as it may seem in the context of a long battle, the Johansson affair is one more piece of evidence that illegal Israeli actions in the occupied Palestinian territories are being increasingly held up to scrutiny. There is no longer impunity for those willing to associate themselves with it.
China
Voices in social media are silenced - After China's crackdown on social media, new data shows that Sina Weibo, the country's version of Twitter, has been declawed, writes Foreign Policy's David Wertime. In its prime, Weibo provided key insight into the mind of Chinese citizens and stimulated political debate. Today however, the platform looks more like "Disney World", saturated with celebrity gossip, advertisements and pictures of cute animals.
Thailand
An idiot's guide to Sunday's election - "This isn't an ordinary election," writes Suthichai Yoon in Thailand's the Nation. "It's an election under the state of emergency." He advises that voters should dress lightly, be ready for action and stay aware of the "security situation" at polling booths. "If you think an election should take place and you want to show your dissatisfaction with the limited choice of parties offering their services, you could cast a 'No' vote to register your political stand," he writes. But don't tear up your ballot - that's a criminal offence.
Cuba
End the trade embargo - President Barack Obama should take unilateral steps to ease the bite of US sanctions on Cuba, write the editors of the Tampa Bay Times. "Obama has every reason to improve relations with a nation closer to the mainland than the state of Hawaii," they argue.
Justin Bieber
The media can't resist the Bieber story and the web traffic it generates - The Guardian's Michael Wolff writes that the Justin Bieber story is "anti-news news" that in the past would have been relegated to the entertainment tabloids. Because of the internet and media organisations' constant quest for more pageviews and the "near scientific ability to parse and exploit momentary traffic trends", he contends, the Bieber story gets major play. Echo Chambers, of course, finds this development all too shocking.
South Korea
President Obama must visit Korea - The US has recently announced that President Barack Obama will be travelling to Asia in April. Although the itinerary has yet to be revealed, leaving South Korea off the list would signal the US is not committed to the region, writes former deputy secretary of state Richard Armitage and Victor Cha and Michael Green of the Center for Strategic and International Studies.
Nigeria
The absurdity of anti-gay laws - Nigeria's law prohibiting same-sex marriage and demonstrations of homosexuality is an attempt by Nigerian leaders to preserve the "illusion" of national unity, writes Adewale Maja-Pearce in the New York Times.
Iraq
Americans should be proud of accomplishments in Iraq - Despite the recent trouble in the towns of Ramadi and Falluja, American should be pleased that Saddam Hussein is no longer in power and Iraqis have a chance to build a new nation, writes former George W Bush Administration national security official Stephen J Hadley.
BBC Monitoring's quote of the day
The Munich Russia-US security conference: "For years now, the Munich conferences have been a forum for comparing the security policies and approaches of Russia and the USA. This is important for the international community as a means of understanding developing trends and ways of resolving conflicts. We are seeing some encouraging Moscow-Washington co-operation on Syria and Iran. But dissonance still prevails in their approaches to fundamental security issues." - Yevgeniy Grigoryev in Russia's Nezavisimaya Gazeta
One more thing…
The Washington Redskins assemble team of "villains" to fight name change - Travis Waldron wrote a piece for ThinkProgress on Thursday detailing all the steps Daniel Snyder, the owner of the Washington Redskins football franchise, has taken to fight back against those who consider his team's name offensive to American Indians. New York magazine's Jonathan Chait takes a closer look at the article and writes that Mr Snyder has picked a collection of overpriced Washington insiders to work on his team.
"Dan Snyder's approach to any problem is to throw vast sums of money at overrated big names whose best work is behind them, so it is fitting that he has compiled an all-star team of mendacious sleaze," he writes.
Have you found an interesting opinion piece about global issues that we missed? Share it with us via email at echochambers (at) bbc.co.uk.