MSNBC apologising again for perceived racism, this time on Twitter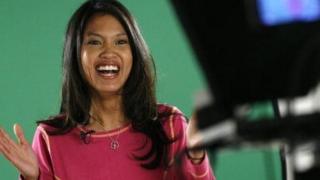 On Wednesday night, MSNBC tweeted out the following, in reference to an advert for Cheerios featuring a biracial family that will be played during the Super Bowl for a second straight year:
"Maybe the rightwing will hate it, but everyone else will go awww: the adorable new #Cheerios ad w/ biracial family."
The tweet linked to an article on the MSNBC website about the ad, which noted the "outcry" (originally termed "outcry from the right" but later changed) the ad caused when it aired the previous year.
The tweet caught the attention of conservative columnist Michelle Malkin, who started a #MyRightWingFamily Twitter hashtag with a photo of her children. #MyRightWingFamily quickly went viral, as others attached it to tweets with photos of their own families.
On Thursday morning Republican National Committee Chair Reince Priebus sent a letter of condemnation in which he promised that no RNC officials or surrogates would appear on MSNBC. He urged other Republicans to do likewise unless the network issued a formal apology.
It didn't take long for MSNBC to comply. By mid-afternoon, MSNBC president Phil Griffin had released a letter of apology in which he called the tweet "offensive and wrong" and said that the person responsible had been "dismissed".
"Having revealed themselves as despicable bigots, the folks at MSNBC have now deleted and apologized for their offensive tweet," writes John Hinderaker at Power Line blog. "Their true colors, however, have been shown."
MSNBC has been a regular object of scorn from conservatives, who view its news coverage as having a liberal bias. Several weeks ago, the network had to apologise for another race-related gaffe, in which on-air host Melissa Harris-Perry and several guests joked about a photo of former Republican presidential nominee Mitt Romney's family in which he held his adopted black grandchild.
According to Politico, Mr Priebus has lifted the network boycott. (The chairman himself is a regular guest on MSNBC's Morning Joe program, appearing as recently as Wednesday.)
"We appreciate Mr. Griffin's admission that their comment was demeaning and disgusting, and the Chairman accepted his apology," Politico quotes from a memo issued by RNC Communications Director Sean Spicer. "We will aggressively monitor the network to see whether their pattern of unacceptable behavior actually changes. We don't expect their liberal bias to change, but we will call them out when political commentary devolves into personal and belittling attacks."
The Washington Post's Eric Wemple writes that MSNBC's string of apologies - for the Cheerios tweet, comments about the Romney family photo and several other offensive incidents - is disturbing:
Apologies can be an important measure of accountability. Yet this string of meae culpae suggests that the apology may be morphing into an enabling device for the network's tendentious and divisive attitudes Sometimes a bad tweet represents the errant and unrepresentative thoughts of some employee managing the social-media accounts. And sometimes it represents institutional mores and prejudices.
In the film A Fish Called Wanda, Kevin Kline plays a brash American who apologises profusely to an unconscious John Cleese after mistakenly hitting him on the head with a pan. In the middle of his apology, his anger resurfaces and he repeatedly kicks him, then quickly apologises again.
In the movie, it's funny. Here it's just sad.