Politicians, forecasters and pundits play the Atlanta snow blame game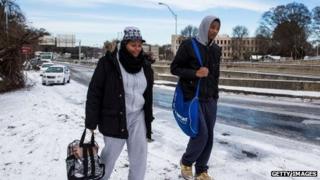 While President Barack Obama's State of the Union address was sucking most of the oxygen out of national press coverage on Tuesday night, the city of Atlanta was suffering under a massive winter storm.
Well, "massive" may seem like a bit of an overstatement to those who live in northern climes, but 2in (5cm) of snow effectively shut the city down, stranding many motorists in their cars, shoppers in stores and children in schools.
The storm has set off a blizzard (sorry) of criticism, as politicians and pundits look to assign blame.
First and foremost among the targets are Georgia's Republican Governor Nathan Deal and Atlanta's Democratic Mayor Kasim Reed, who have been criticised for poorly co-ordinating school, government and private-sector preparations.
In the morning, Mr Reed had tweeted that his city was "ready for the snow". And in an unfortunate (for them) irony, he and Mr Deal were attending a luncheon where Mr Reed was presented with a "Georgian of the Year" award as the first flakes began to fall.
"The people whom we pay to be prepared were not prepared," writes the Atlanta Journal-Constitution's Jay Bookman. "It was going to be bad, but it didn't have to be this bad."
Mr Deal, for his part, blamed faulty weather forecasts from national meteorologists, calling the storm "unexpected".
The governor said that as of Tuesday at 10:00 "it was still in most of the forecasts anticipated that the city of Atlanta would only have a mild dusting or a very small accumulation, if any. And that the majority of the effects of the storm would be south of here. Preparations were made for those predictions."
"Wrong, Wrong, Wrong, and Wrong!" writes American Meteorological Society President J Marshall Shepherd. He notes that warnings of an impending winter storm were issued by meteorologists as early as the day before.
"This was poor planning on the mayor's part and the governor's part, pure and simple," said celebrity weatherman Al Roker on NBC's Today show. "They were warned about it. They should have been prepared for it, and people are still suffering." (And when you've lost Al Roker, you've lost the nation.)
The Atlantic's Conor Sen writes that regional government infighting is the real culprit.
"The issue is that you have three layers of government - city, county, state - and none of them really trust the other," he writes.
This is just another example of government incompetence, writes syndicated columnist Matt Towery: "The lesson learned from this episode, which will likely cost a fortune in insurance claims, out-of-pocket expenses and costs for government efforts at responding, is that we should never fully rely on government to solve all of our problems."
The Nation's John Nichols counters that the conservative drive to cut government budgets has put politicians in a difficult situation.
"Those officials are operating with an austerity mindset in which their biggest fear is not chaos but accusations that they might expend dollars that do not need to be spent - or that the officials are somehow failing to make the service of big business their highest priority," he writes.
Others are pointing to poor infrastructure and city planning as the real reason behind Tuesday night's debacle.
"It's simple traffic engineering, and we saw it in Atlanta today," writes the Journal-Constitution's Kyle Wingfield.
"This snowstorm underscores the horrible history of suburban sprawl in the United States and the bad political decisions that drive it," writes Rebecca Burns, deputy editor of Atlanta Magazine, in Politico. "It tells us something not just about what's wrong with one city in America today but what can happen when disaster strikes many places across the country."
If that's the case, the thought should send a chill down the spine of even the most winter-hardened among us.