What in the world: Abortion anniversary and US bases in the UK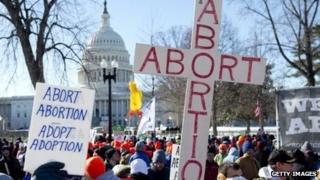 A review of the best commentary on and around the world...
Today's must-read
Yesterday marked the 41st anniversary of the Roe v Wade Supreme Court decision legalising abortion across the United States. Where does the debate on the divisive topic now stand?
The Washington Post's Dana Milbank writes that conservatives have misplaced priorities: "Long before they make abortion illegal, Republicans will make themselves irrelevant, by choosing abortion bills over jobs bills and by validating Democratic claims of a GOP 'war on women.'"
Syndicated columnist Michael Barone writes that abortion-rights supporters are denying the latest scientific evidence: "Science tells us that the fetus and the mother have different DNA, that they are separate people and not part of the mother's body, over which advocates insist she have control."
Because of this, he concludes, "the debate goes on".
United Kingdom
The US should close its British bases - The Americans arrived during World War Two and never left. It's time for the UK to show some independence, writes the Guardian's Seumas Milne, and ask the US to withdraw its military forces.
Japan
Battle for Tokyo - An anti-nuclear energy candidate is contending for the governorship of Tokyo. While the establishment is afraid that he might win, writes Bloomberg View's William Pesek, his success may be just what Japan needs.
Egypt
Egyptians deserve credit - Critics are wrong in their pessimism about Egypt's recent vote on an amended constitution, writes USA Today's Kirsten Powers. The new document endorses secular values and ensures greater religious freedom and protection for women.
Syria
The West doesn't really care - "If there's one thing more nauseating than the Assad torture factories, it's the synthetic outrage and faux horror that has greeted their discovery," writes the Telegraph's Dan Hodges. "We had the chance to take a stand against Assad last year. His chemical weapons. His torture chambers. We turned our back on it."
Brazil
A prison disaster - Robert Muggah and Ilona Szabo de Carvalho of the Igarape Institute describe the violence, overcrowding and "deplorable conditions" that plague Brazil's penal system. They write that the nation's leaders must act to safeguard all Brazilians' basic rights.
Russia
Don't forget the Circassians - While much has been made about Russia's position on homosexual rights and unrest in the Caucasus, writes American University Prof Frankie Martin, little is written about the Circassians. They lived around the Olympic host site of Sochi for millennia, he says, and they were the victims of oppression and slaughter at the hands of Russians.
India
A decade of decay - India's economy has been in the doldrums for nearly a decade, writes former Indian Finance Minister Jaswant Singh. Outgoing Prime Minister Manmohan Singh, and his "aloofness" and lack of action, are to blame.
BBC Monitoring's Quote of the day
Who will win the Syrian civil war?: "'He who is stronger will win. However, one cannot envy the winner. He will gain a miserable, starving and devastated country that will hardly be able to maintain its unity." - Gennadiy Petrov in the Russian paper Noviye Izvestia
One more thing…
Time to abandon grilled meat - More and more studies are showing that grilled meat can increase your chance of getting certain types of cancer. While it seems crazy to think that Americans can give up the backyard barbecue, writes Brian Palmer of Slate, people once said the same thing about tobacco.
Have you found an interesting opinion piece about global issues that we missed? Share it with us via email at echochambers (at) bbc.co.uk.