What in the world: Obama's pot views and an end to the Olympics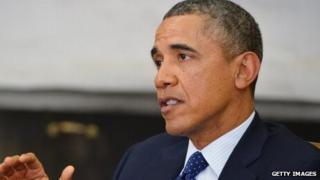 A review of the best commentary on and around the world...
Today's must-read
Add another 17,000 words to the volumes that have been written about President Barack Obama. In this week's New Yorker, David Remnick has a wide-ranging profile of the president, the result of interviews in the Oval Office and a trip aboard Air Force One in November.
Journalists are busy picking apart the various highlights of the piece, in which Mr Obama reflects on goals for the remains of his second term in office and his presidential legacy.
Mr Obama discusses his foreign policy views and puts the odds of a final deal on Iran's nuclear deal at "less than even". He talks about his "evolving" views on gay marriage. He acknowledges that he doesn't think marijuana "is more dangerous than alcohol", but legalisation would lead to some "difficult line-drawing issues" for more dangerous drugs.
As for his place in history: "At the end of the day we're part of a long-running story. We just try to get our paragraph right."
Fox's media analyst Howard Kurtz writes that "the president gave the sense of a man marking time, hoping to consolidate his gains, abandoning what he once billed as the audacity of hope".
Mr Obama is "at least tentatively committed to being reasonable about" marijuana, writes New York magazine's Caroline Bankoff.
Kevin Drum of Mother Jones writes that the profile puts Mr Obama's cautious nature on full display: "His answer to nearly every question is to pause; acknowledge that it's a thorny issue; allow that his opponents have some good points; and then provide a careful, nuanced version of his own views."
The Olympics
End the Olympics - The modern Olympics were founded with the lofty goal of bringing countries together, writes Charles Lane in the Washington Post. The "movement", however, is corrupt, damaging to national economies and harmful to athletes, and it should be abandoned.
Syria
Geneva negotiations need Iran - "Iran's substantial influence in Syria, Lebanon and Iraq is vital for any successful outcomes in Geneva - and, more importantly... its influence across much of the region could sabotage any moves on Syria that it does not explicitly approve and help define," writes Rami G Khouri of the American University of Beirut.
Brazil
An answer to inequality - The development of a vibrant middle class is proof Brazil has figured out that economic growth is valuable only when it improves the lives of all people, writes the New York Times's Joe Nocera.
Israel
Jewish Senate Democrats are surrendering - By failing to back tougher sanctions on Iran, writes Shoula Romano Horing in Israel's Yedioth Ahronot, Jewish Democrats in the US Senate are abandoning Israel.
Japan
Death by demographics - University of Texas Prof John W Traphagan writes that Japan's low birth rate means the nation slowly but inevitably will fall behind its regional competitors.
Mexico
Who's worse: drug lords or vigilantes? - The rise of vigilante groups to combat Mexico's drug gangs is a disturbing sign that the Mexican government is risking a decent into "ungovernable lawlessness", writes Bloomberg View's Raul Gallegos.
Argentina
National decay - The Wall Street Journal's Mary Anastasia O'Grady writes that inflation is crumbling the Argentine economy. If the trends continue, the people will turn on the government.
BBC Monitoring's quote of the day
Iranian nuclear deal implementation: "A wave of cynicism and pessimism wraps the diplomatic process opposite Iran. The pessimism is the assumption that it will be hard, perhaps impossible, to reach a final settlement in which the Iranians really concede military nuclear capabilities; the cynicism is the assessment that everything is a bluff… The pessimism is justified; the cynicism is stupid: It is stupid because a real power struggle rages in Iran. Yesterday's headlines of Tehran's conservative newspapers were hysteric. One shouted 'nuclear catastrophe', and the catastrophe for the conservatives is the suspension of the enrichment. They see in this shameful surrender, concession of sacred values." - Nadav Eyal in Israel's Ma'ariv
One more thing…
Conservative Downton Abbey - Although it's a darling of the liberal elite, Salon's Daniel D'Addario writes that BBC's Downton Abbey portrays a conservative world "where meaningful social change seems impossible".
Have you found an interesting opinion piece about global issues that we missed? Share it with us via email at echochambers (at) bbc.co.uk.