What in the world: Does the US want Snowden dead?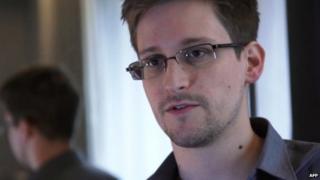 A review of the best commentary on and around the world...
Today's must-read
Defence and intelligence officials want Edward Snowden dead. Or, at least, they joke about wanting him dead.
That's the takeaway from an article on Buzzfeed by Benny Johnson, who has some rather choice anonymous quotes from civilian and military personnel.
"Most everyone I talk to says he needs to be tried and hung, forget the trial and just hang him," one defence contractor tells him.
"I would love to put a bullet in his head," says a Pentagon official.
If that wasn't detailed enough, here's this scenario, recounted by an Army intelligence officer:
"I think if we had the chance, we would end it very quickly," he said. "Just casually walking on the streets of Moscow, coming back from buying his groceries. Going back to his flat and he is casually poked by a passerby. He thinks nothing of it at the time starts to feel a little woozy and thinks it's a parasite from the local water. He goes home very innocently and next thing you know he dies in the shower."
Johnson notes that there is "no indication that the United States has sought to take vengeance on Snowden". I'm not sure Mr Snowden would be reassured by that.
Across the internet, the article is generating quite a stir.
This underscores "how deeply some defence officials hate Snowden", writes Mediate's Noah Rothman.
Reason magazine's Matthew Feeney writes: "It's sad, but not surprising, that there are some in the U.S. intelligence community that would like to see Snowden killed. He deserves thanks, not the pathetic hostility highlighted by Johnson."
Esquire's Charles P Pierce writes that the anonymous officials need to be identified and fired. "And, of course, these folks went back to their day jobs and didn't think at all of abusing the power that has been placed in their hands," he adds.
Japan
China's propaganda war - Japanese Ambassador to the US Kenichiro Sasae calls on China to "cease its dogmatic anti-Japanese propaganda campaign and work with us toward a future-oriented relationship".
Climate change
Global warming is a back-door to socialism - The editors of Investor's Business Daily express what many conservatives fear could be the hidden agenda of environmentalists: they're not out to save the planet; they want more socialism.
China
Softer tone toward India is a strategic move - On 6 January, we pointed out an interesting opinion piece by Chinese Ambassador Wei Wei published in the Indian paper the Hindu. The American Interest's Walter Russell Mead writes that this is part of a Chinese strategy to improve relations with India as a counterbalance to Japan and South Korea.
France
The real French scandal - The New York Times' Paul Krugman writes that French President Francois Hollande's decision to impose austerity has had disastrous results.
South Korea
North Korea as an economic savior - Only by moving toward reunification with the North can South Korea keep pace economically with China and Japan, writes Bloomberg View's William Pesek.
Thailand
A country in crisis - and no one cares - With Thailand "teetering on the edge of the political abyss", writes former Japanese Defence Minister Yuriko Koike, the region's powers need to take action.
Afghanistan
A US withdrawal will spell disaster - International Crisis Group's Graeme Smith writes that insurgents will prevail if the US doesn't come to a bilateral security agreement with Afghanistan.
BBC Monitoring's quote of the day
Egypt's constitutional referendum: "Egyptians have passed the constitutional test by scoring well over 90 per cent. And by so doing, they have reasserted the will they declared at the 30 June revolution when they topped the backward sectarian regime and pulled the legitimacy rug, once and for all, from under the Muslim Brotherhood Society's feet." - Editorial in Egypt's Al-Jumhuriyah
One more thing…
The death of expertise - Thanks to the Google, Wikipedia and blogging, everyone thinks they're an expert . What's really happening, writes the Federalist's Tom Nichols, is that everyone is getting dumber - and it's destroying democracy.
Have you found an interesting opinion piece about global issues that we missed? Share it with us via email at echochambers (at) bbc.co.uk.