Golden Globes: Boozy charm or hotbed of controversy?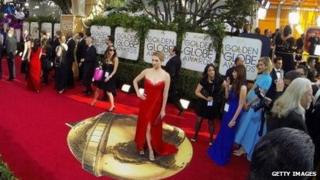 The Golden Globe Awards took place Sunday night, and although there were few major gaffes, that didn't stop the chattering class from commenting on controversial moments, as well as the alcohol-sodden nature of what is considered the most casual of the Hollywood awards shows.
"There's a reason the Golden Globes are known as the 'boozy' awards show, and this year didn't disappoint," writes USA Today's Lindsay Deutsch. "Several acceptance speeches were, um, impaired - whether deliberately or otherwise."
The informality, intoxication-driven or otherwise, is part of the show's charm, according to the Washington Post's Hank Stuever:
Nobody had an acceptance speech ready. Nobody could get to the stage in a timely manner. The red carpet was accidentally soaked before the show in dirty drain water. Men showed up with fancier hairdos than the women. The Breathalyzer results were just north of handcuffable. This is all we ever really ask for from any awards show - something to look at and laugh off.
Perhaps the most talked about, and condemned, portion of the show came when actress Diane Keaton accepted a lifetime achievement award for the notoriously reclusive director Woody Allen, whose personal life has been the subject of scandal, from his marriage to his adopted daughter to allegations of child molestation.
"I would respect Diane Keaton more if she were not doing this. Any of this," writes ThinkProgress's Alyssa Rosenberg.
Mr Allen's estranged son from his marriage with Mia Farrow, Ronan Farrow, tweeted shortly after the award presentation:
@RonanFarrow: Missed the Woody Allen tribute - did they put the part where a woman publicly confirmed he molested her at age 7 before or after Annie Hall?
"Here we were having a nice stroll down memory lane thinking about all the terrific movies Allen has made over the years and then Ronan Farrow had to go and splash a blender full of icy, pureed TRUTH right in our faces," writes the Wire's Price Peterson.
He continues that the situation reflects an uncomfortable reality when it comes to entertainment stars: "The truth is, most people simply can't enjoy art if they know the artist is a bad person. That is why a disturbing majority of people weirdly excuse artists for their crimes."
NewsBusters' Noel Sheppard writes that during the Golden Globe awards the "twisted priorities of Hollywood liberals were once again on full display".
In particular, he took exception to a joke by Dan Goor, co-creator of the TV comedy show Brooklyn Nine-Nine, in which he said he was glad he went into entertainment and not medicine, as winning a Golden Globe was better than "saving a human life".
Sheppard wondered "what kind of depraved person" would say that.
"Possibly even sadder is many in the Hollywood audience applauded Goor's words suggesting they agreed with him," he concludes.
Salon's Daniel D'Addario writes that he was struck by the fact that Jared Leto and Matthew McConaughey, who both won awards for their roles in Dallas Buyers Club, a film about Aids, failed to mention the disease in their acceptance speech:
These two men devoted months of their lives to a project specifically about the AIDS crisis, and then went off on tangents when accepting awards for their work about how goofy and weird it is to make your body like a transgender person's (Leto's speech) or about how your wife calls you "king" (McConaughey's).
The stars weren't the only ones under criticism, however. The network E! had to issue a quick apology following its coverage of the Golden Globes, during which it labelled a graphic it ran about actor Michael J Fox's Parkinson's disease as a "Fun Fact".
The controversy, the off-colour humour and the occasional chaos, however, is exactly what the audience wants, writes CNN's Gene Seymour:
You can downgrade their importance or dismiss their results as much as you like. But the Golden Globes are, like it or not, an Occasion-with-a-capital-O, much like weddings, Thanksgiving and other rituals that often provoke sentiment and warmth - and slavishness and inappropriate behavior.
As the stars are left to nurse their hangovers, commentators reload and wait for the next awards show, when they're sure to find something new to spark their outrage. Like Seymour wrote, it's all part of the Occasion.