What in the world: Lessons of World War One and Christian courage in Syria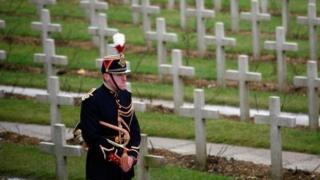 A review of the best commentary on and around the world...
Today's must-read
We're going to hear a lot about World War One in the coming months, as we approach the 100th anniversary of the conflict's start. The war shaped the course of the 20th Century, but does it have lessons for our current geopolitical situation?
Author and Harvard University Prof Joseph Nye takes a look at international politics today and 100 years ago, and writes that we shouldn't be too quick to draw parallels. Those who compare China's rising power with that of Kaiser Wilhelm's Germany ignore key differences, he writes.
"Among the lessons to be learned from the events of 1914 is to be wary of analysts wielding historical analogies, particularly if they have a whiff of inevitability," he writes. "War is never inevitable, though the belief that it is can become one of its causes."
Iran
The US needs a deal, not detente - The US doesn't need to "sanctify" Iran in order to have successful negotiations with it, writes the Council on Foreign Relations' Ray Takeyh.
"The challenge for Washington today is to defy its history and reach a nuclear agreement with Iran while negating the Islamic Republic's regional ambitions."
Thailand
Economy held hostage by politics - The editors of the Nation write that the ongoing political crisis in Thailand is dragging down the country's economy.
Canada
University lets student refuse to team with women - The Globe and Mail's Marina Nemat writes that York University was wrong to overturn a professor's decision to refuse to allow one of his students to opt out of a group project with women because of religious beliefs.
Israel
Middle East commentators are split on Ariel Sharon's legacy - BBC Monitoring samples commentary by Israelis and Arabs and finds that there are decidedly divergent views on the life of late Israeli leader Ariel Sharon.
Argentina
A battle in the US Supreme Court could roil global bond markets - BBC Chief Business Correspondent Linda Yeuh writes that a US court case could force Argentina into "technical default" and could make debt restructuring for at-risk EU nations much more difficult.
Syria
Christian courage - The National Review's Andrew Doran writes that Christians in Syria are being persecuted, much as they were in Iraq.
Australia
It's time thugs went to jail - The public wants a crackdown on violent crime, but Australian policymakers don't seem to be paying attention, writes the Sydney Daily Telegraph's Peter Van Onselen.
Kenya
Defending the police is getting difficult - An investigation into police abuse and corruption is revealing information that makes it harder for Kenyans to have faith in their law enforcement officers, writes the Daily Nation's Muthoni Thang'wa.
BBC Monitoring's Quote of the Day
The death of Ariel Sharon: "Sharon's misfortune is that he failed to pioneer a new era… Now the USA's strategic judgment in the Middle East is changing, and its leadership capabilities in the Middle East are in decline. The deviating tendency of Egypt, Saudi Arabia and other moderate forces away from the US is increasing. The US judgement of Israel as an 'unsinkable aircraft carrier' in the Middle East is in doubt." - Yu Guoqing in China's Huanqiu Shibao.
One more thing
Are dating sites making us more extreme? - Thanks to the spread of dating sites, more people are more likely to seek out and identify mates who share their same political views. Political science professors Peter K Hatemi and Rose McDermott argue that this is contributing to an increasing fractured political dialogue in the US.
Have you found an interesting opinion piece about global issues that we missed? Share it with us via email at echochambers (at) bbc.co.uk.