What in the world: A Christie-bridge theory and human trafficking about more than sex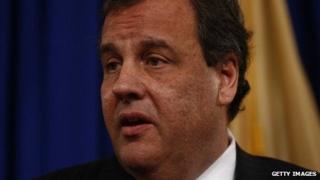 A review of the best commentary on and around the world...
Today's must-read
It's the day after "Bridgegate": The Press Conference, and post-mortems on New Jersey Governor Chris Christie's performance are streaming in.
The New York City papers are taking an unkind view of Mr Christie, which isn't surprising. This is the kind of story on which a tabloid headline writer can make his career. ("Ignorance is Chris" person, time to ask for a raise.)
The New Yorker's John Cassidy warns that Mr Christie walked a fine line with his press conference. "In simultaneously putting the blame on a single staffer and saying he had no involvement whatsoever, he staked his career on the belief, hope, desperate gamble - call it what you want - that no new information will emerge to challenge his version of events," he writes.
Peter Roff of US News and World Report thinks Christie gave a virtuoso performance yesterday, calling it "completely presidential" and contrasting it with what he sees as the evasiveness of President Obama's press conferences. "Christie dealt with the whole matter openly and with apparent candor," he writes. "He explained what he knew, when he knew it, and what he did and would be doing as a result. No excuses, just the facts."
Meanwhile, many pundits are talking about a theory advanced by MSNBC host Rachel Maddow on Thursday night. She contends that the media may have the bridge controversy all wrong - Mr Christie's subordinates weren't punishing the mayor of Fort Lee, but instead were targeting the Democratic leader of the New Jersey state Senate (also from Fort Lee), who was butting heads with the governor over judicial appointments. MSNBC's Steve Benen explains the details.
Mother Jones's Kevin Drum thinks that this is "as good a guess as any". "The whole story about retaliation against the mayor of Fort Lee has always been pretty whacky, so now that we know for sure that retaliation of some sort really did take place, it's only natural to scratch our heads and start trying to figure out if maybe something else was going on," he writes.
Central Intelligence Agency
The inside scoop on 'enhanced interrogation' - Former CIA chief legal counsel John Rizzo tells Newsnight that the CIA was "consumed by the fear and the dread that another attack was coming", which is why water boarding and other questioning techniques were authorised. He defends the agency's actions as within the bounds of the law and "not constituting the legal definition of torture".
Philippines
Post-typhoon temporary housing is unfit for humans - Following Typhoon Haiyan, many of the homeless are living in government-provided bunk houses. In an echo of the complaints made against the trailers supplied to victims of Hurricane Katrina in the US, Manila Times columnist Rick B Ramos writes that the housing provides neither protection nor privacy.
Germany
Star footballer comes out of the closet - Former British Premier League and German National team footballer Thomas Hitzlsperger recently revealed that he is gay. He sits down with BBC Radio 4 to talk about his fears and experiences.
Rwanda
Covering up a nightmare - Twenty years after the genocide in Rwanda, we still don't have all the facts on what happened and how we can prevent future atrocities, writes the US Holocaust Memorial Museum's Michael Dobbs.
International Human Rights
Human trafficking is about more than sex - Georgetown University Prof Mark P Lagon writes that while the sex trade gets most of the headlines, the human trafficking problem isn't just about prostitution. On illegal fishing boats around the world, many workers are being forced into slave labour.
Iran
Are sanctions back on the table? - In Friday's Washington Post, Robert Menendez, chair of the Senate Foreign Relations Committee, calls on Congress to prepare new sanctions on Iran "as a diplomatic insurance policy".
Egypt
An interview with a 'terrorist' puppet - As we wrote last week, Egyptian authorities are investigating whether a puppet used in an internet company's ad was giving coded "terrorist" messages. #BBCtrending's Mukul Devichand interviews Abla Fahita, the character in question. "Paranoia is the mother-in-law of invention," she says.
BBC Monitoring's Quote of the Day
Al-Qaeda in Iraq: "The Islamic State of Iraq and Syria [ISIS] has launched a jihad against busts of famous poets and historical figures… The busts were destroyed on the basis that they are idols. The group had even launched a jihad against trees. It has kidnapped journalists, murdered doctors and killed prominent rebels. This is why ISIS had failed to win popular support." - Adnan Farzat in Kuwait's Al-Qabas
One more thing…
Duck Dynasty before the beards - It's been about a month since much of the chattering class was introduced to the hairy-faced back-country entrepreneurs of Duck Dynasty. But were they always hirsute camo-clad rednecks? Negative. Daniel Luzer has a Washington Monthly article about members of the Robertson clan back in the 1990s, when they were golf-playing yuppies. The photos alone are worth a look.
Have you found an interesting opinion piece about global issues that we missed? Share it with us via email at echochambers (at) bbc.co.uk.