What in the world: Sympathy for Rodman and sparring Pacific ambassadors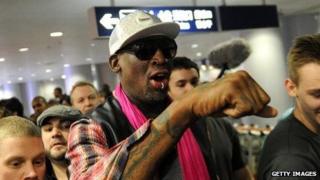 A review of the best commentary on and around the world...
Today's must-read
It's been an interesting week for former basketball professional Dennis Rodman.
He had a cigar-waving rant during an interview with CNN's Chris Cuomo. He channelled his inner Marilyn Monroe and gave an off-key rendition of Happy Birthday to North Korean leader Kim Jong Un. On Thursday he offered an apology for the aforementioned rant, blaming his actions on the fact that he had been drinking and was stressed that his "dreams of basketball diplomacy was quickly falling apart".
Needless to say, he's been taking it on the chin from commentators in the Western media.
The condemnation hasn't been quite universal, however. In Foreign Policy, Elias Groll offers an almost sympathetic take on Rodman's childhood in a Dallas, Texas, housing project and how he has gone through life "isolated, misunderstood and profoundly weird". It could explain why he formed an unlikely bond with Mr Kim, Groll contends.
"In Kim, Dennis Rodman has found someone with a reputation very similar to his own. Isolated from the world, he is repeatedly ridiculed and denounced for its barbarity," he writes.
Meanwhile, Andray Abrahamian, executive director of a student exchange programme with North Korea, writes that the media love the circus atmosphere around Rodman. There is the potential that positive results can eventually come out of his trips to North Korea, however:
For now, little will come out of Rodman's visits other than extraneous news. But as Pyongyang continues to devote resources and energy to sports development, its appetite for athletic exchanges will increase. Let's warily hope, to use Rodman's phrase, that this can "open the doors" to other things.
Senkaku/Diaoyu conflict
Duelling ambassadors on the China-Japan conflict - BBC Newsnight's Jeremy Paxman talks to ambassadors from both China and Japan about their dispute over uninhabited islands in the Pacific and the war of words between the two nations, including the "childish abuse" of Harry Potter-related barbs.
Iraq
Iran's fingerprints on Falluja - The Washington Post's David Ignatius writes that by co-opting the Iraqi government, Iran has pushed the Sunnis in Anbar province toward extremism and delivered Falluja into the hands of al-Qaeda.
Syria
The ship that will remove Syria's chemical weapons - BBC correspondent Anna Holligan spent a week on board a Norwegian ship that is to remove Syrian chemical weapons stores and transport them to a US vessel that will dispose of them. She kept a diary of her time on board until she and her fellow foreign journalists were ordered to leave "due to the sensitivity of the operation".
Germany
Green policy energy has led to more coal use - Germany tried to transition from nuclear power to renewable energy, writes Walter Russell Mead, but the end result has meant the country is bridging the gap by using more coal than it has in almost 25 years.
United Arab Emirates
Western culture creates exploited workers - On Monday we wrote about a criticism of construction projects in Qatar in preparation for the 2022 World Cup. But the problem of slave labour is pandemic to the rich Persian Gulf states, argues Suddeutsche Zeitung's Sonja Zekri (translated by Worldcrunch). She writes that Western museums and universities are scrambling to start new projects in Abu Dhabi, but their grand buildings are being built by slave labour.
Italy
Rape and paedophilia court rulings are shameful - The Italian Supreme Court recently overturned a conviction of a 60-year-old man who had sex with an 11-year-old. Ritwik Deo writes in the Independent that this shows Italy's "doddering medieval mentality" hasn't changed.
Japan
US aerospace is being sold, one part at a time - Author Eamonn Fingleton writes that US aviation giant Boeing is transferring valuable technological know-how to Japan and sealing its own fate.
Turkey
A Democratic mirage - The latest corruption scandal shows that Turkey is a democracy in name only, writes Steven A Cook in Foreign Affairs.
One more thing…
Trapped by a stranger on a train - We've all been in the situation where a person next to us on a train, plane or bus wants to talk - and just won't stop. Rita Watson in Psychology Today writes that there are usually deeper issues at play for people who don't believe that silence is golden.
Have you found an interesting opinion piece about global issues that we missed? Share it with us via email at echochambers (at) bbc.co.uk.