What in the world: Gates takes on Obama and a Spanish princess in court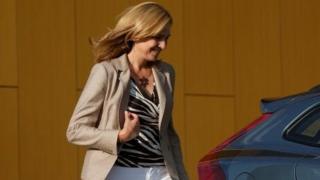 A review of the best commentary on and around the world...
Today's must-read
In case you haven't heard, former Obama Secretary of Defence Robert Gates has written a memoir. Today's Wall Street Journal has an essay drawn from the book, in which he complains about Congress, the White House and Washington political dysfunction.
Mr Gates compares his experiences working with both George W Bush and Barack Obama, and writes that they "had much more in common than I expected". He criticises both presidents, but is rankled particularly by what he sees as Obama administration micromanaging.
As for Congress? "Congress is best viewed from a distance - the farther the better - because up close, it is truly ugly."
Spain
Princess Cristina in court - El Pais editorialises that a judge ordering Princess Cristina to testify about possible tax evasion and money laundering is a sign of the health of the Spanish democracy.
Brazil
Worries over the World Cup are mounting - Syndicated columnist Timothy Spangler writes that with construction delays and a restless population that could take to the streets, Brazil may not be prepared for this summer's football tournament.
Israel
Infiltrators are an existential problem - Noah Klieger writes in Yedioth Ahronoth that African refugees are an existential threat to the Israeli state, which cannot handle the influx of people.
Iran
What Iran wants in 2014 - Economic growth, Syria, improved relations with the US and continued nuclear negotiations top the list of priorities for Iran in the new year, according to the nation's prime minister, Hasan Rouhani.
Russia
Losing the war on radical Islam - The bombings in Volgograd show that Russia's counter-terrorism policy is failing, writes American Foreign Policy Council's Ilan Berman.
Iraq
A dangerous and uncertain US tone - Former Ambassador to Iraq James Jeffrey writes that by seeming uncertain and overly concerned with appearances before a domestic audience, the US is jeopardising its standing in the Middle East.
United Kingdom
Plain packs offer a smoke-free future - Forcing cigarette manufacturers to sell their product in branding-free packaging will help cut down on smoking-related deaths, writes James Cant, head of the British Lung Foundation Scotland.
Australia
Drunk on power - Sydney Daily Telegraph's James Morrow writes that public health "experts" who say that Australia has an alcohol problem are just looking to make some quick money.
One more thing…
Getting naked in Antarctica - Think the recent cold spell in North America was bad? How about -100F (-73C) temperatures in Antarctica? Then imagine streaking around in it naked. It's about as pleasant as it sounds, writes the Atlantic's Svati Kirsten Narula, but that doesn't stop people who want to join the 300 Club.
Have you found an interesting opinion piece about global issues that we missed? Share it with us via email at echochambers (at) bbc.co.uk.