Open season on Duck Dynasty?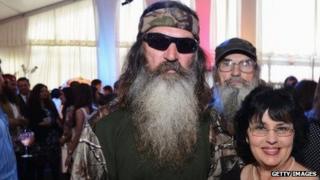 Politicians and pundits are flocking to the controversy surrounding Duck Dynasty and the comments of the highly rated reality TV show's patriarch, Phil Robertson, about gays, Jesus and life in the segregated South.
This is a debate about free speech and the First Amendment, according to Louisiana Governor Bobby Jindal, a prominent Republican in whose state Mr Robertson lives. "This is a free country, and everyone is entitled to express their views," he said.
Liberals, writes PJ Media's Roger L Simon, "are working in complete opposition to the Bill of Rights and the founding documents of our country, and naively laying the grounds of their own demise when someone turns on them".
Not true, writes the Washington Post's Dylan Matthews. "Unless you think it should be illegal to fire people based on their political beliefs (which would be one hell of an impingement on employers' economic freedoms), there just isn't a policy issue here of any consequence."
"The FBI did not threaten to put Robertson away, and the Internal Revenue Service didn't freeze his bank accounts," writes CNN's LZ Granderson. "This is what the First Amendment protects us from - laws being made that restrict freedom of religion, the press and/or speech. It does not protect us from how society responds to the expression of one's religion, the press or speech."
So, if the Bill of Rights is not at issue here, despite some overblown rhetoric, why the conservative outrage? Fundamentally, it's over the idea that someone should be punished by their employer for expressing (however inarticulately and graphically) their Christian religious views, particularly when it comes to cultural issues and especially when it involves homosexuality.
"Robertson plainly repeated simple truths that are fundamental to Western civilization - the Bible calls all sexual activity outside of holy matrimony sin and immoral, and it's natural for a man to be attracted to a woman," writes Steve Deace in USA Today. "For that, the tolerance mob demanded his head on a platter, and the wannabe King Herods that work at A&E, the network that made untold millions off of Robertson's enormous popularity, gladly obliged."
According to the Federalist's Mollie Hemingway, this is just another example of the left redefining what is morally acceptable in society: "Tolerance now means not tolerating those whose sexual norms are based in the Bible. Inclusivity is short for, 'You'll have to leave now.' And to show how much we oppose judgement and condemnation, we say, 'You're fired.'"
Business Insider's Josh Barro counters that there are some views that cross the line. "Racist and anti-gay comments and comments disparaging of religious minorities are rude and unacceptable and might cost you your job," he writes. "It's not OK to say that gay people are 'full of murder'."
And then there's the issue of race. While most attention has been focused on Mr Robertson's anti-gay remarks, he also said that he had never "witnessed the mistreatment of any black person" or heard them express resentment toward whites during his childhood.
"The black people who Phil Robertson knew were warred upon," writes the Atlantic's Ta-nehisi Coates. "If they valued their lives, and the lives of their families, the last thing they would have done was voiced a complaint about 'white people' to a man like Robertson."
Perhaps it says something that as quick as conservative commentators have been to come to Mr Robertson's defence, their focus has been almost exclusively on the gay issue - and not race.
This has the Dish's Andrew Sullivan wondering why conservatives decided to pick this particular fight at all.
"Does the GOP really want to rally behind someone who truly talks of gays the way medieval anti-Semites spoke of Jews?" he writes. "Do they really want to embrace someone who believes the civil rights movement has hurt African-Americans?
He adds: "It's as if the year of relentless, decisive advances in gay civil rights has prompted an emotional venting which is as informed by victimology as anything on the PC left."
Once Mr Robertson's comments became public, the left's outrage and the conservative counter-outrage, ad infinitum, were quite predictable. In the end, this whole flap might actually improve Duck Dynasty's ratings, if the show stays on the air.
It's not like the show's regular viewers would have been surprised by Mr Robertson's statements. And more social conservatives could flock to the show in solidarity (the Chick-fil-A effect). It's enough to make you wonder whether this might have been A&E's sneaky suspend-not-fire strategy from the beginning.