Bad SantaCon: A drunken holiday fest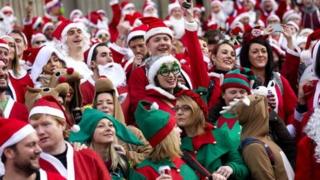 Santa is having a bad week.
First, there was the debate over whether jolly old St Nick is white (Fox's Megyn Kelly says yes; the rest of the world says huh?). Then, on Saturday, lower Manhattan, central London and countless other bar districts around the globe were overrun by tens of thousands of Santas, sexy elves and various other holiday-themed revellers. They were drinking, dancing and, at least on one occasion, fighting in the streets.
The holiday-themed revelry is Santacon, an annual bacchanalia of Christmas cheer that started as a counter-culture flash mob in San Francisco in 1994. Now, one writer is calling it "the culmination of everything that is wrong with America".
On the Guardian's website, Jenn Tash, a former bartender in New York, writes that "something about the anonymity of the costume combined with intoxication causes bar patrons to behave in ways they would never ordinarily consider acceptable".
"There's a definite attitude of privilege and excess surrounding SantaCon," she writes. "They descend in groups of 20 or so - all demanding immediate service from the two bartenders on shift. They want shots, they want them RIGHT NOW, and they do not feel they're being served fast enough. Also, they would like their bartenders to stop making drinks and take pictures of them looking like idiots."
In the New York Times, Jason O Gilbert calls SantaCon "a parasite" that leaves nothing but destruction in its wake.
"New Yorkers can endure street closures and inconveniences for any number of events so long as there is a beneficent impulse, or an obvious reason for the disruption," he writes. "For a New York City event of its size, however, SantaCon is distinctive, and arguably impressive, in that it contributes absolutely zero value - cultural, artistic, aesthetic, diversionary, culinary or political - to its host neighborhood."
But is there more to the SantaCon phenomenon than just drunk misbehaviour on a larger-than-normal, costumed scale? According to the Independent's Yasmin Alibhai Brown, SantaCon is a reflection of the cold-hearted politics of the world we live in:
Dickens's A Christmas Carol, the nation's favourite at this time, is no longer a story of times past but times present. Our government is Scrooge, its meanness seen by millions as necessary, wise, virtuous. Generosity to them is foolish and profligate. The most vulnerable are cold and hungry, the disabled driven to the edge. But hey, lucky self-pleasurers, don't give a damn. Spend, spend, spend, get, get, get, eat, eat, eat and get sloshed. The SantaCon debauchers have started the festivities, join in, be merry. If you have the dosh and the heart.
Drew Grant of the New York Observer, on the other hand, is more philosophical - and ironic.
"If we're going to argue about something this Christmas, we'd rather have it be about something as innocuous as jolly drunk nuisances than something that might actually be of some importance," he writes. "Let's feel this strongly about the small stuff, people! At least it shows we still feel anything at all. At least it's better than using up all our outrage over Obama selfies."
I wouldn't worry, though. There's plenty of outrage to go around.