Divided Iranian opinion on nuclear talks mirrors US views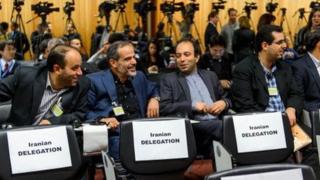 It is a debate that should be quite familiar to Americans. Conservatives are highly suspicious of negotiations and whether their counterparts are operating in good faith. The other side sees a fleeting chance to reach an accord and improve relations between longtime antagonists.
That is the state of play inside Iran, as its media analyse the current round of nuclear programme talks in Geneva.
On sanctions, a conservative paper downplays their effectiveness, while a reformist editorial boasts that the Geneva talks have helped convince the US Congress to hold off on increasing the economic pressure:
Before this round of negotiations, Iran has - in co-ordination with the International Atomic Energy Agency - taken unprecedented confidence-building measures so [the US andits negotiating partners] will have no excuses. If they act in accordance with political rationality, they will abandon wickedness and agree to reach a deal. They know very well that sanctions and threats will have no impact on the progress of Iran's nuclear projects, so they need to abandon this approach. - editorial in Resalat (conservative).
Politically, socially and economically, Iran is in one of its most critical periods. The recent talks led to a fairly promising moment that prompted the US Congress to give up its plan to approve a new set of sanctions. Clearly, Iran's constructive approach has had a positive impact so far. - Editorial in E'temad (reformist).
Other papers consider whether Iran's policy of "good faith" and "positive diplomacy" will be reciprocated:
Rigorous, intensive and serious negotiations were held at the last round of talks, but just when a deal was about to be clinched, they reached a dead end as a result of French mischief on behalf of the Zionist regime and certain reactionary Arab countries. Nevertheless, the Iranian delegation has taken measures to build confidence and show good faith. What is expected is honesty in the Westerners' words and deeds, and soon. - Editorial in Jomhuri-ye Eslami (hard-line).
President Hassan Rouhani has been pursuing a policy of positive diplomacy. The recent talks in Geneva [and their failure] showed that negative diplomacy is not the right way. ... If Rouhani's diplomacy fails then it can be said that he was wrong and that [former President Mahmoud] Ahamadinejad was also right to believe that we should face [the West] with clenched fists. But you could also ask whether his failure will have been affected by the negative policy within our own country? - Sadeq Zibakalam in Sharq (reformist).
Outside of Iran, papers in two nations also participating in the talks, China and Russia, wonder what a deal could look like:
Ignoring such a hard-earned window of opportunity, which the Iranians say would not be available indefinitely, does no good to any party. If the current talks in Geneva end again without a deal, it would be a loss to all. President Rouhani and his government have offered evidence that the Iranian desire for a resolution is not just rhetoric... The Iranians need a deal in Geneva. But they are not the only ones. The P5 Plus One countries want a comprehensive, permanent agreement that guarantees Iran remain nuclear weapon free. For that purpose, they must work with Tehran on reaching an interim deal. - Editorial China Daily (state-run).
The negotiation process has passed a point of no-return and a deal is merely a question of time. The upcoming agreement, however, will not put an end to the Iranian nuclear problem. While the United States and their Western allies are in no hurry to lift the main sanctions against Iran, Israel and Saudi Arabia do not accept the nuclear deal. - Sergei Strokan in Kommersant (Russian business daily).
(From reports provided by BBC Monitoring)