What in the world: Militia violence in Libya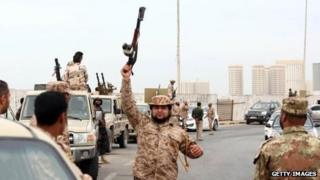 Libya headlines this morning's world roundup, as concern grows in the regional media over the country's struggles to control militia forces that are fomenting violence in Tripoli.
The Libyan government's main mission will be to remove the militias that entered Tripoli following the revolution so that it can prove to its people that it is capable of maintaining their security and protecting their lives, as well as imposing the rule of law and order which are the backbone of any government. Carrying out this mission will not be easy. However, building Libya requires major decisions to be made and a significant amount of diplomatic statesmanship as well as a tough and firm will.- Al-Quds Al-Arabi (independent Arab nationalist newspaper).
The attempt by Misrata militia fighters to storm the capital, Tripoli, threatens to plunge the country into urban warfare. It also shows the extent of state powerlessness in the face of militia violence. Furthermore, the tendency to wreak revenge and counter-revenge is not only a breach of state mechanisms, but a violation of its very existence. - Al-Bayan: (a United Arab Emirates privately owned, pro-government newspaper).
Only two years after toppling the regime of Col Muammar Gaddafi, Libya is completely submerged in chaos and under the control of armed, tribal, religious and criminal groups. ... I feel so sorry for Libyans. After spending four decades reciting the teachings of [Gaddafi's] Green Book, they are now turning the pages of a red book drenched with their own blood and only God knows how long this bloody situation is going to last - El-Khabar (Algeria's independent, largest circulation publication).
For a gripping look at what life is like on the streets of Tripoli today, here's a report from BBC's Jeremy Bowen:
Turkey
Turkish Prime Minister Tayyip Erdogan and Iraqi Kurdistan President Masoud Barzini met on Saturday in the Kurdish-dominated town of Diyarbakir in southeastern Turkey.
We witnessed scenes which we could not have imagined ten years ago. ... It would be cruel to deny that the emotional scenes experienced [in Diyarbakir] were conciliatory. - Taraf (leftist Turkish newspaper).
Yes, the climate has changed. It is time to laugh not to cry in Diyarbakir. - Yeni Safak (moderate, pro-Islamic, pro-government Turkish newspaper).
United Kingdom
If Russell Brand wants a revolution, he should get on with it.
And if you haven't watched Mr Brand's "revolutionary" interview with Jeremy Paxman on BBC Newsnight, take the time to catch up now:
Ghana
Americans in Ghana are rude and disrespectful.
Australia
A little snooping on neighbours is a good thing.
Malaysia
Malaysians need to get over their dislike of menial labour.
South Africa
Black and poor in South Africa face ten layers of oppression.
(From reports provided by BBC Monitoring)