A presidency on the brink?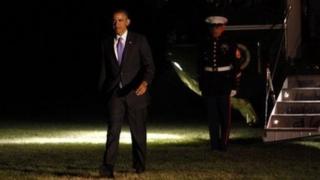 With the health-care reform rollout an ongoing mess, US President Barack Obama has taken a beating from conservatives. What could make or break the rest of his presidency, however, is whether Mr Obama can keep his base from giving up on him.
If liberal commentary on yesterday's press conference is any indication, the ground may be shaky beneath the president's feet.
"Listening to the president Thursday was painful," writes Ruth Marcus in the Washington Post. "Can he recover? I'm sorry to say: I'm not at all confident."
New York Times opinion editor Andrew Rosenthal writes that Mr Obama's performance gives the "disturbing impression" that the president "sometimes shoots from the hip, that he is still struggling to handle the politics of the presidency after nearly five years in office and that he is surrounded by people who are too incompetent or too weak to help him".
Current criticism of Mr Obama and health care implementation is the latest, most dramatic incarnation of a larger disillusionment with the president among progressives. This arises from expectations dating back to the beginning of the Obama presidency.
It is easy to forget that liberals once viewed Mr Obama's election as a transformational event. Finally, they had elected one of their own to the presidency, someone who would represent a meaningful break from the establishment politicians before him. That was before five years of compromises, missed opportunities and partisan gridlock.
Last night, in what can be filed in the "unkindest cut" category, Mr Obama's former Harvard Law School professor, Brazilian philosopher/progressive advocate Roberto Unger, told BBC's HARDtalk news program that the president has failed to demonstrate courage, hope and vision.
Unger, who kept in touch with the president up until his election, said Mr Obama had "failed to come up with a sequel to [Franklin D.] Roosevelt's New Deal" or "challenge the dominant economic structure of the country".
As Mr Unger's comments show, some progressives now have come to the conclusion that, despite conservative rhetoric of a socialist presidency, Mr Obama has been decidedly mainstream.
On health care, for example, those who pushed for public-option or single-payer style reform, as opposed to the industry-friendly, market-based law the Democrats passed, are busy saying: "I told you so".
The disillusionment on the left is real, and it likely will grow the further Mr. Obama gets into his second term - if there are no new accomplishments and health care reform continues to have a rough implementation.
George W. Bush's presidency was not fatally damaged, and his poll numbers did not truly tank, until conservatives deserted him in 2005-06. At that point, they would join the 40-45% who had always been against him.
"Obama and his collaborators have mistaken conformism for realism," Mr. Unger said. "They think they've grown up; in fact, they've fallen down."
Mr Unger is one progressive who has publicly turned on Obama. How many others will follow?