Typhoon Haiyan commentary as seen by regional media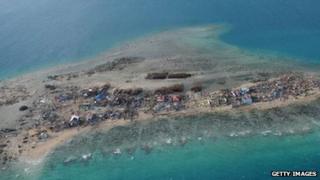 Four days after Typhoon Haiyan swept through the Philippines, politics - both national and regional - are on full display in the South East Asian media.
Conrado de Quiros, in the Philippine Inquirer, describes his nation as undergoing "as huge a breakdown in peace and order as you'd see in war, famine or a zombie movie".
The Philippine Daily Tribune calls on the nation to put partisanship and political infighting aside, editorialising: "With the great loss of lives which can be the worst ever for a natural disaster, political ambitions and grudges should be set aside as the speed of government in responding to the crisis would spell the difference between restoring the ravaged provinces to normalcy or they descend to a more dreadful state."
The recovery effort has not been without controversy, however, as Philippine President Benigno Aquino considered, then rejected, calls to impose martial law to control looting. The Inquirer's Oscar Franklin Tan writes: "It is unconscionable how Filipinos can treat martial law so lightly less than a generation after the [Ferdinand] Marcos dictatorship."
The ability of the Philippine government to competently manage and distribute aid is also a common topic of commentary. "There is no room for the usual graft and corruption that is endemic in Philippine society and Philippine politics where emergency aid is concerned," writes the Manila Times.
Regional response
Elsewhere in South East Asia, nations are calling for joint relief efforts and regional solidarity.
"If we are to look for a blessing in disguise from the calamitous storm in the Philippines, it is certainly the quick disaster response from its neighbours to ensure the nation is not alone in dealing with its misery," writes the Jakarta Post. "More than being just a friend when needed, Indonesia should show the world that it is a friend that is available at all times."
William Pesek writes in Australia's Canberra Times that the disaster presents a chance for Mr Aquino to demonstrate that the Philippines is no longer the "sick man of Asia". "This is a test for Aquino - but also an opportunity," he writes. "If he can oversee a rapid and effective response to Haiyan, he will demonstrate to the world, and his own people, that the Philippines has grown up."
The commentary in the Chinese media has been complicated by ongoing disputes between the two nations over territory and compensation for the death of eight Hong Kong tourists in a hostage incident on a Manila bus three years ago.
"China, as a responsible power, should participate in relief operations to assist a disaster-stricken neighbouring country, no matter whether it's friendly or not," writes Beijing's Huanqiu Shibao (Global Times).
Hong Kong's Ta Kung Pao takes a less conciliatory tone, however, writing, "If the hostage incident is put aside because of a number of specific natural disasters, given the current situation in the Philippines and President Aquino's 'wise leadership', one may have to wait a lifetime for compensation and an apology for the hostage incident."
Thailand's The Nation criticises the Association of Southeast Asian Nations for letting the United States and Europe lead the way in disaster relief. "Asean as a group has no rapid-response rescue teams and no mechanism to deal with emergencies," it editorialises. "With climate change bringing more frequent and unpredictable natural disasters to South East Asia, it's time that Asean forged measures for a timely and sufficient response to such regional emergencies."
Climate change debate
Climate change, and how it could affect the many high-risk coastal areas of the region, is becoming a common theme in the media coverage of the typhoon - particularly with the latest round of UN climate talks getting underway this week in Warsaw. The Philippines is on the "front lines of climate change", as one commentator put it.
"Climate scientists predict that the impact of climate change will be felt most deeply in low-lying areas, which are expected to go underwater when sea levels rise," editorialises India's Deccan Herald. "The international community needs to put climate change on top of its agenda to prevent such deadly disasters from striking."
Peter Hartcher in Australia's Sydney Morning Herald writes, "Manmade climate change is real and dangerous. … There is no need for exaggeration, and there is no excuse for inaction."