The crowdfunded news agency risking all for Hong Kong scoops
By Juliana Liu
Hong Kong correspondent, BBC News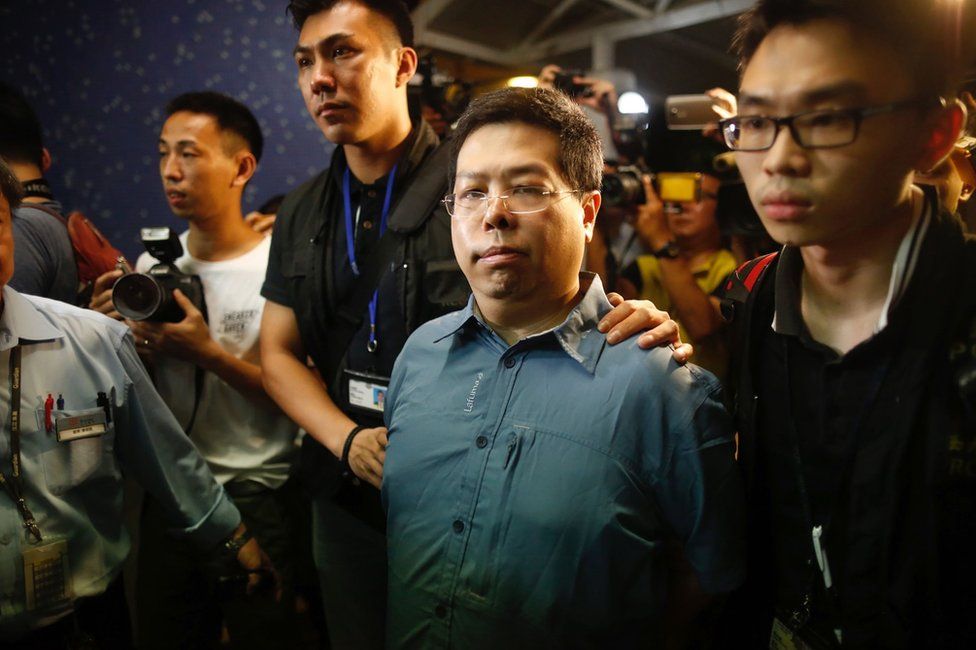 When journalists working for Hong Kong's fledgling Factwire news agency hit the streets of Mong Kok last week, they were looking for evidence to support a shocking story of abduction and torture.
Just hours before, Howard Lam, a veteran activist and a familiar presence at countless pro-democracy demonstrations, told how he was kidnapped and beaten by suspected agents of mainland China.
The most alarming detail? Graphic images of metal staples embedded in his legs, in a cross-like pattern.
Mainland Chinese law enforcement officials are not allowed to operate in Hong Kong, a semi-autonomous city that enforces its own rules.
Any evidence of their involvement in a crime would be of enormous global interest, not to mention a huge coup for Factwire, a crowd-funded, bilingual investigative news agency established two years ago with only 10 staff.
Over the next two days, what they would uncover would have implications for the official police investigation, tarnish the reputation of the largest democracy party in Hong Kong, and highlight the miasma of paranoia and mistrust that continues to loom over the former British colony.
'No boss, no investors, no advertisers'
To understand Factwire, I meet the only member of the operation who is willing to be interviewed: the founder, Ng Hiu-tong.
There are a lot of things Mr Ng, 47, says he does not do.
He insists that he is not the boss, he gives no orders and he does not get too involved in the actual investigations.
He also draws no salary. But he is, no doubt, the mastermind of the shoestring operation.
He was inspired to start the agency because of the enormous political divisions that emerged in the wake of the 2014 democracy protests in Hong Kong.
"There were too many opinions and conflicts, not based on facts," he says. "I was shocked that reporters were chased and hit by protesters because they didn't like the reports."
His other inspiration? BBC News.
"We have no boss, no investors and no advertisers," he says. "It's the BBC model. They don't care about advertisers. The BBC is sponsored by the public, so the boss is the public. And the money should come from the public."
A veteran journalist, Mr Ng established the news agency in the summer of 2015 with a crowd-funding campaign that raised HK$4.75m ($607,000; £471,000) in less than three months.
By early 2016, he had hired the 10-strong editorial team.
"I told them they had six months to make something happen," he recalls. "In terms of impact, I think it's been far faster than what I had imagined in terms of building trust and credibility."
They first made a splash with a report about safety concerns at a nuclear power station in Guangdong province.
Some have asked whether the journalists used illegal methods in obtaining their information.
Mr Ng says it is all down to old-school, shoe-leather reporting: working sources, finding publically available information and spending a lot of time on the streets.
To investigate the Howard Lam case, he says, the first Factwire journalists were on the scene of the alleged kidnapping within one hour of Mr Lam's press conference on 11 August.
Their goal was to find CCTV footage of the reported abduction. The local shop owners were initially helpful, turning over several hours of tapes.
But then the authorities arrived, after Mr Lam, a member of the pro-democracy Democratic Party, made his official police report.
The news agency said the police later warned shop owners not to give out any more tapes, so the journalists left empty-handed.
After returning the next day and pleading their case, by 13 August, the team had enough information to come to a startling conclusion: that the activist had not been abducted on the street, and at the time, that he had alleged.
"They tried to find footage that captured the abduction," says Mr Ng. "But what happened didn't match what Mr Lam said. The journalists cannot hide the results just because it is not 'favourable'."
The Factwire report was published on 14 August, shortly before Mr Lam was arrested for allegedly providing false information.
The news agency was criticised online by some who accused it of being a tool of the Hong Kong or Chinese governments.
Mr Ng admits the attacks and the numerous conspiracy theories about the news investigation reflect the extreme paranoia and divisiveness of Hong Kong society.
Hong Kong currently stands at number 73 in the 2017 World Press Freedom Index by Reporters Without Borders, compared to 45 for Taiwan.
According to Fu King-wa, an associate professor at the Journalism and Media Studies Centre at the University of Hong Kong, concerns about press freedom are part of what gave rise to crowdfunded news sites like Factwire.
"Most of the media owners in Hong Kong have direct or indirect business, political or social relationships in China," he says. "So there is widespread self-censorship."
He believes the publicly funded business model - used wholly or in part by local media start-ups such as Hong Kong Free Press, Hong Kong Citizen News and Initium - seeks to minimise self-censorship.
But he doubts whether this business model is sustainable in the long run.
As for Factwire, it is asking readers to sign up for annual subscriptions, as well as charging mainstream media organisations to run its stories.
Mr Ng plans to expand the team and predicts his reporters will be "wrong again" in future investigations.
"That's inevitable. You can't hide the truth, even if it hurts."