A Chinese millionaire's £1bn plan to 'transform' Sheffield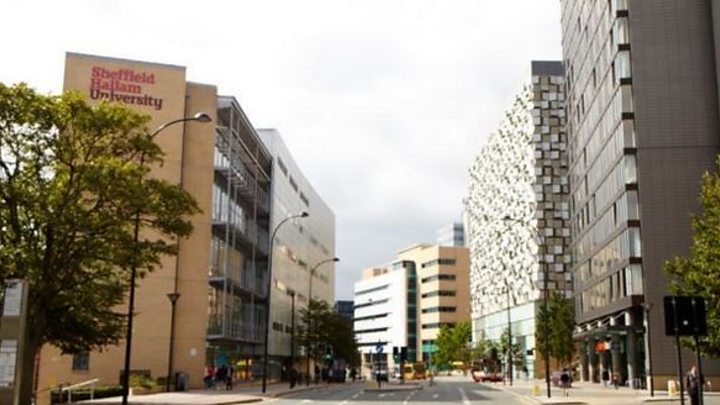 Back in the 1960s, Sheffield was still booming, with many thousands employed in making a product that had underpinned Britain's industrial strength for centuries; steel.
At the same time, half a world away in China, a young salesman had found a niche market with the material of choice for one of the poorest countries on the planet.
Wang Chunming had a knack for selling bamboo and a willingness to ride the considerable risks in a system that had declared entrepreneurs to be an enemy class.
"Profiteering was a crime punishable by death," he laughs.
"But practically all the bamboo blinds in China came from Chengdu, and I was the only guy selling them."
The story of the past 50 years has, of course, been marked by Britain's industrial decline and China's extraordinary rise.
Which is how, having made his fortune first in bamboo and then in construction, Mr Wang is now in the position of signing a deal to invest more than £200m ($262m) in Sheffield, a place he talks about in a way Brits may once have spoken of China.
"When we saw Sheffield, we noticed the infrastructure was not very advanced," he tells me.
"There's not even a five-star hotel."
'Transforming' the city
The £200m is, Sheffield City Council proudly boasts, "the biggest Chinese investment deal in a UK city outside of London" and it is just the beginning of a plan which Mr Wang says will "transform" the city centre with around a billion pounds of investment spread over 60 years.
Starting with a new hotel - five star of course - and apartment buildings, Mr Wang says the eventual vision includes helping to overhaul Sheffield's "problematic" transport infrastructure and developing its universities.
He's keen to show off the kind of things he's capable of, so we're taken on a tour of some of the latest projects built by his business, Guodong Construction Company. Although it has to be said, they seem to prompt as many questions as they answer.
His recently opened hotel in Chengdu, the Guodong International Hotel, feels a little dated by the swish standards of most modern luxury Chinese hotels.
And it comes complete with a somewhat improbable faux Greco-Roman fountain which, he tells me, he designed himself.
Might we expect to see him bring his tastes to bear in a similar way on Sheffield's new cityscape, I wonder?
"I hope so," he replies.
"The fountain was inspired by Italian masterpieces. We should have something like this in Sheffield... or even a more magnificent one."
We're also taken to one of Mr Wang's new apartment complexes, functional enough if not particularly inspiring, although he tells us he's the first developer in Chengdu to offer a full refund if buyers aren't totally happy.
We later discover that this particular complex happens to be the subject of a legal dispute with a subcontractor suing Guodong over payment.
Mr Wang brushes it off when we ask, suggesting it's a small matter and that his company will win.
'Our British partners may lose faith in us'
There are, though, other questions about Guodong relating to the Sheffield investment.
The construction company's shares have been voluntarily suspended a number of times in recent months while it undergoes restructuring.
And just days before the Sheffield deal was signed there was a sudden change of plan, with the investment funds no longer coming from the public limited company (PLC), under the control of shareholders, but from the parent company, Guodong Construction Group, under private ownership and the control of Mr Wang.
He insists there is no cause for concern.
"The main problem was if we had used our PLC to invest, the red tape would have been too complicated and time-consuming," he tells me.
"Not every shareholder understands every decision we make and the board may not vote for all of our decisions. There may be obstacles in executing our plans and our British partners may lose faith in us."
Sheffield City Council also tells me it has no concerns and has been fully aware of the situation with the company stocks and ownership structures during the negotiations.
And the deal has the backing of the British government, which would like it to be seen that Britain is still very much open for business following the Brexit vote.
The irony is that in a referendum decision that turned largely on fears about immigration, Mr Wang's investment has only come about because of Sheffield's popularity with large numbers of Chinese students.
He tells me he first discovered the city because his daughter and son-in-law were both students there and without them, the whole thing would never have happened.
Politics is everything
There is perhaps another clue to his motivation, which can be found hanging in the lobby of his Chengdu company headquarters.
In pride of place are a series of pictures that show Mr Wang meeting a young Xi Jinping, on a visit to one of his factories many years ago.
Mr Xi is, of course, now the president.
Mr Wang may have started off selling his bamboo blinds against the prevailing orthodoxy of Chairman Mao's Communist Party.
But like most successful businessmen he has since developed a canny knack of making the right connections, with his construction company for example winning contracts to build army bases across China.
And today, the Sheffield deal almost certainly has the backing of the Chinese government, keen to strengthen ties with the UK and keen in general to encourage the acquisition of overseas assets.
Mr Wang himself alludes to this, suggesting the deal brings the interests of the parties involved, as well as the UK and China, into neat alignment.
Whatever the financial complexities of the way the investment is being funded, one thing is certain.
In China, politics is everything, and when it comes to his political credentials, Mr Wang looks rock solid.