Grace Geng: Chinese dissident's daughter proud of her 'brave' father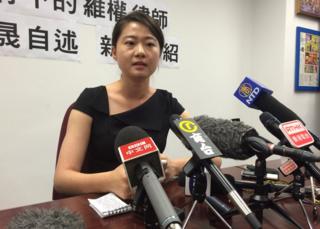 When Grace Geng landed in Hong Kong this week, she says she burst into tears.
For the 23-year-old daughter of dissident Chinese human rights lawyer Gao Zhisheng, it is her first time on Chinese soil since 2009, when she, her mother and younger brother smuggled themselves out of the country through Thailand.
"This is the first time I am so close to my father and so close to mainland China in seven years. So, I am pretty excited to be here," she says.
She has come from exile in the US to launch her father's new memoir, which was written in secret, in which he details years of imprisonment, his Christian faith and his belief that the Chinese Communist Party will face massive challenges in 2017.
Since his release from prison in 2014, he has been living under house arrest in the remote village in Shaanxi province in north-western China where he grew up.
Ms Geng says her father is under constant surveillance and has been denied access to phones and computers.
She and her mother communicate with him intermittently via Mr Gao's elder brother, with whom he lives on a farm.
When Mr Gao was released after three years in prison, one of his lawyers, Jared Gensher, said he was "utterly destroyed: emotionless, unintelligible and nearly toothless from malnutrition".
Ms Gao says her father, who has been denied access to doctors, is still relying on liquids and not yet eating solid food.
But, she says he is determined to improve his physical health, so he runs on his brother's farm every morning.
"Mentally, he appears to be OK," Ms Geng adds. "The last time I spoke with him, he seemed fulfilled with God."
He is not the only one in the family who has improved psychologically.
Tall and poised, and speaking fluent English, Ms Geng herself is a far cry from the person she was when she left China.
At the age of 17, she was suicidal from being bullied at school due to her father's work and had tried several times to take her own life. It led her mother to make the difficult decision to leave China, and her husband.
---
Gao Zhisheng timeline
2005: Authorities close down Gao Zhisheng's law practice
Dec 2006: Convicted of subversion and sentenced to house arrest
Sept 2007: Says he was tortured during a period of detention
Jan 2009: Disappears; last seen accompanied by security officials
Mar 2010: Reappears for a month before disappearing again
Dec 2011: State media says he has been jailed for three years
Jan 2012: Gao revealed to be in Xinjiang prison
Aug 2014: Gao freed from jail
June 2016: Release of his memoirs
---
After repeatedly being denied legal ways to leave China, she took her daughter and four-year-old son on a risky overland journey by bus and motorbike to Thailand, where they flew on to the US.
Ms Geng says she required six months of hospital treatment for her mental health issues in New York.
"I am very happy with everything around me now," she says. "I think I've recovered very well, but sometimes I have trust issues. I don't really trust people around me."
She is now studying economics at a university in California and plans to graduate next year, after which she would like to take a year off to do something she enjoys, such as baking.
And after years of not understanding her father's choices, she has come to support him fully.
"I came to think of his decision as truly great," she says, as tears well up.
"He loves the Chinese people so much that he put his family in second place. I think that what he thinks is very, very great. So I am very proud of it."
Mr Gao was first convicted of subversion and sentenced to house arrest in December 2006, after defending China's Christians and followers of the banned Falun Gong spiritual movement.
Ten years later, a crackdown on human rights lawyers and activists has intensified.
According to Amnesty International, nearly 250 of them have been targeted by police over the past year.
Eighteen have been formally arrested, and 14 of them have been charged with state security related crimes.
As the daughter of a man who says he has been similarly persecuted, Ms Geng believes China's rights lawyers should not give up.
"I think they should continue their work. What is happening now in China needs to be changed. And there are not a lot of people standing up [against it]," she says. "It's the right thing to do."
As for her family, she believes they will be reunited one day.