China says no to amateur weathermen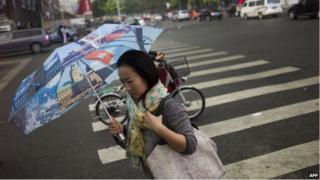 You may not be able to control the weather - but you can control the forecasts.
China's amateur meteorologists, or indeed anyone with an opinion on whether it might rain, now need to watch out.
In an extraordinary step, Beijing is banning individuals or organisations from issuing unofficial weather forecasts as of 1 May.
Those breaking the law could face fines of up to $8,000 (£5,200) or even imprisonment.
Beijing says that only official forecasts from the country's weather centre are allowed to be published.
Unsurprisingly, the ban has been widely mocked online by a public that is increasingly sceptical about government announcements and goes elsewhere to find information.
One internet user wrote: "The government can't give us accurate forecasts and now they've banned us from even guessing."
Another internet user asked: "What if your mother tells you to take an umbrella because she thinks it might rain - could she then be fined?"
State media say the new measures are needed to prevent public panic in the face of a major weather event.
One newspaper said that a false alert about a typhoon earlier this year prompted people to cancel their travel plans.
One amateur meteorologist - who refused to give his real name - said the ban was a good thing.
He runs a weibo microblog called Chinese Fans of Meteorology - which has half a million followers - but was at pains to stress he never makes forecasts.
He told us that many Chinese were not terribly sophisticated when it came to weather reports and would simply believe any warnings that were posted online.
If anything, however, the ban fits into a wider government clampdown on independent sources of information that challenge the official version of events.
Ahead of a major summit last year, China banned phone apps that provided pollution readings from the US embassy in Beijing.
But even if the government doesn't want to talk about it, smog - a bit like the rain - is a problem it cannot hide.