Daily life comes to stand-still in Beijing during Apec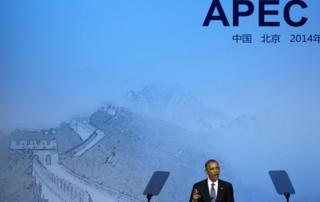 Beijing's leaders have done all they can to ensure the capital's skies are clean for the Asia-Pacific Economic Co-operation (Apec) summit.
Factories have been closed. Half the city's cars have been barred from the streets. Locals have even been stopped from lighting outdoor barbeques or burning funeral incense.
Exhausted by all the preparations, the city's beleaguered citizens have marked the occasion by coining a phrase of their own: "Apec blue".
Apec blue is something that is pretty, but temporary. A mirage of sorts.
"That boy doesn't really like you," the saying goes, "his affection is just 'Apec blue'".
'We can relax'
Beijing's citizens are certainly paying the price for the government's desperate attempts to engineer "Apec blue" skies.
To ensure the summit passes without a hitch, millions have been forced to take a mandatory holiday. Most offices are shutting down and schools have closed their doors for a week.
"I'm so happy!" smiles a teenaged girl, found wandering through a shopping mall in the middle of the afternoon. "We can all relax! We usually study too hard."
Gleeful students aside, most people in the city are annoyed, not amused by the changes.
The city's nervous government leaders are so eager to ensure that every aspect of Apec will be perfect that almost every area of daily life has been affected.
No-one can buy real estate during this period. Even love is put on hold - Beijingers can't register marriages for a week.
It's not a good time to get sick either. Hospitals aren't taking appointments during Apec.
Even food deliveries have been postponed. Fresh milk and seafood won't arrive in many parts of Beijing while Apec's on.
'How ridiculous!'
These measures are getting out of control, goes the common complaint.
"Our water supply stopped four days ago, and they can't fix the pipes because the digging would generate dust that would affect the Apec meeting," writes one Beijinger on Weibo, China's version of Twitter. "How ridiculous!"
"Apec's impacted me because everything related to the public service has been stalled, including salaries," writes another user. "My salary will only arrive one or two days after Apec is over, because of the bank closure."
Businesses are taking a hit too.
"Fewer customers show up during Apec," groans a local man, handing out pamphlets for his local massage business. "The anti-pollution measures are just designed for foreign leaders."
But even the promise of blue skies has proved to be a disappointment. Hours before the summit's opening ceremony, the city's pollution levels hovered at levels deemed "unhealthy" by the US embassy in Beijing's air monitoring system.
Apec blue, indeed.