US mid-terms: China media blasts 'insipid' Obama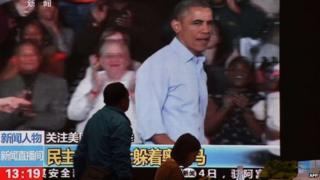 Given his party's miserable set of US mid-term election results President Barack Obama will, of course, have been bracing himself for plenty of harsh criticism.
But perhaps he would be surprised to hear that China's state-run media is joining in, with a blistering broadside describing his term in office as "insipid".
Even by the standards of the Global Times, a newspaper with close ties to the Communist Party and known for its strident editorials, the language is blunt.
With Mr Obama due to arrive in Beijing for an international summit in just a few days' time, the article describes him as a man who "dares to do nothing".
US society, it says, has grown tired of his "banality" and, as a result of the mid-terms, "the lame-duck president will be further crippled".
Insults
The Global Times is a tub-thumping tabloid with a circulation of more than 2 million for its Chinese language edition.
For many readers it is an unchallenged source of news about the outside world and it is often critical of the Western media, accusing it of taking "delight in blind, idle chatter".
The paper has defended China's right to block mainstream outlets - including the BBC, the New York Times and Bloomberg - without any apparent irony - it has been publishing and distributing a US edition of its paper since early last year.
It is safe to say, of course, that it is highly unlikely to be on President Obama's reading list - so he won't, at first hand at least, feel the wrath of its latest rant.
As well as the criticism of his domestic record, it takes aim at his foreign policy achievements: "He has managed to take troops out of Iraq and Afghanistan but left no peace."
Beyond the insults though, the piece appears to be a clumsy attempt to make a wider point about the limits of American democracy and its ability to affect real change.
"That party interests are placed higher than the interests of the country and its people is an inherent shortcoming of Western political systems," it argues.
Sign of insecurity?
And perhaps, on that point, the seemingly discourteous timing is not a coincidence.
What at first reading appears as confidence - "With China's rise, we gradually have the ability to have a clear understanding of the US. The country is too lazy to reform" - may instead be a sign of a deep, underlying insecurity.
As the presidents of two very different political systems stand side by side in Beijing next week, this is perhaps simply an attempt to send an early reminder to Chinese readers not to fret about their country's democratic deficit.
After George W Bush, the US public used to speak highly of Obama, the Global Times tells them, but now "they have reversed their opinions".
Mr Obama, even if the article does find its way onto his desk, is of course unlikely to lose too much sleep over the mudslinging and insults - after all, he gets enough of that at home to keep him more than busy.
And anyway, he could easily counter, at least the American public, unlike the Chinese, gets the chance to express its opinion, however unfavourable it may be.