Protecting fair skin with China's 'face-kini'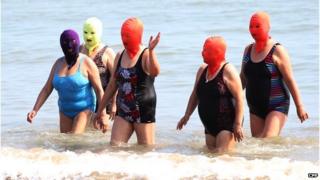 Perhaps drawing inspiration from Spiderman, beachgoers in China's eastern city of Qingdao have come up with a novel way of protecting their skin from the sun.
They call it the "face-kini". It was first sported by middle-aged women as a practical addition to their swimsuits, but now the face-kini has gone global.
New York-based style magazine CR Fashion Book, founded by former Vogue Paris editor Carine Roitfeld, recently published a photo shoot of models with pouting red lips, wearing face-kinis, chic swimsuits and fancy jewellery.
The transformation of what's considered the epitome of "old woman style" in China to high fashion has amused Internet users.
In two days, the subject sparked almost 12 million posts on the Chinese equivalent of Twitter, Weibo.
"Chinese old women are at the centre of the global fashion world," said one comment. "It looks like bank robbers are raiding the beach," others joked.
When it comes to avoiding the sun, it seems Chinese creativity is unlimited.
Apart from the face-kini, the Chinese use special UV-blocking sun umbrellas which can be attached to bike handles.
There are also sun-blocking removable sleeves and Batman-style capes. The list goes on.
On Chinese television, commercials for magic whitening creams abound. White is seen as beautiful here, or as the old Chinese saying goes: "One touch of white disguises 100 kinds of ugliness."
One Weibo user explained that being white was a sign of prosperity.
"Since ancient times, a classic beauty in the eyes of the Chinese has white skin," he said. "Girls raised in wealthy families could afford to stay indoors and away from hard labour, and their rosy white skin was a sign of their good fortune."
It's a curious contrast to the fact that people in many Western countries pay for tanning.
Tanning salons are just now starting to take off in big Chinese cities, where Western influences are more pervasive.
Liu Yupu, or "China tanning boss" as he goes by on Weibo, took the sudden popularity of face-kinis with a pinch of salt.
He said: "These days, if you had just been to a tanning salon in China, your parents and close friends may call you an idiot, but you'll also get plenty of compliments."
But can a beautifully-tanned woman turn as many heads as the face-kini on the Qingdao beach?