Urumqi attack: 'What is happening to this world?'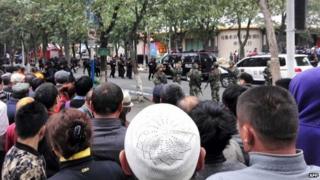 Soon after 31 people were killed in a bloody assault on a street market in Urumqi, millions across China studied how to avoid similar attacks.
An online manual entitled "How to survive a terrorist threat" was released hours after the Xinjiang incident. It was viewed online almost 7.4 million times in less than 24 hours.
The manual was written by the Chinese Red Cross and promoted by CCTV, China's state television network. A large section of the guide explains what to do in the event of an attack.
"Don't stand and watch," the manual warns. "When you cannot escape, hide behind objects. Try not to yell or scream. Do not stimulate the terrorists. If you spot any unidentified liquids, duck with your mouth and nose covered."
Other sections advise citizens how to spot possible terrorists. "See if they are anxious and not speaking normally," the manual says, if strangers arose suspicion.
"Watch if they wear strange clothes that are abnormal in that season. Pay attention if they approach you pretending to be friends and watch if they avoid security screening at check points."
Random, violent attacks on Chinese civilians have become increasingly frequent in the past year.
An SUV rammed into crowds of tourists outside Beijing's Forbidden City last November before bursting into flames, killing two pedestrians and the vehicle's occupants.
Just over four months' later, a gang of masked people stormed a train station in China's southern city of Kunming, killing 29.
Two months after that, a knife and bomb attack on a train station in Urumqi resulted in three deaths and 79 injuries on the heels of a visit by Chinese President Xi Jinping to Urumqi.
Immediately after the train station attack, Mr Xi vowed that "decisive actions must be taken to resolutely suppress the terrorists' rampant momentum".
That promise has been kept. This week, Beijing police announced a spate of new security measures. Police in 14 high-traffic zones are capable of deploying to any area within a minute.
Thirty check points are searching vehicles entering the city. Five helicopters will be monitoring the capital's skies on a daily basis.
Other Chinese cities are under tight restrictions too. Armed police are now patrolling the streets in multiple Chinese cities, from Shanghai to Xian.
Many in China are feeling jittery.
"Let's all not go out, and do all our shopping online," one internet user posted in response to the Red Cross Manual.
"What's happening to this world?" questioned another.