How do relatives move on after the missing Malaysia plane?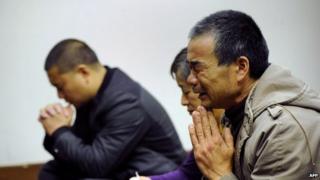 The lobby of the Lido Hotel in Beijing was full of reluctant goodbyes last Friday. An eight-week search for the missing Malaysia Airlines plane has turned up nothing. Waiting family members had been told to vacate the hotel they had used as a gathering point.
"Sending us home was very irresponsible," Lu Zhanzhong tells the BBC.
His eldest son was a passenger on flight MH370. Government officials from Dingzhou, Mr Lu's hometown in China's Hubei province, insisted on transporting Mr Lu and his family home on Friday.
However, he insists he won't stay there for long.
"I've heard there are still up to 80 relatives staying in hotels in Beijing. I want to go and find them. We need to meet with officials from Malaysia Airlines and the Chinese government."
Dozens of family members insist the passengers on board flight MH370 are still alive, somewhere. They are convinced the Malaysian authorities have botched the search for the plane.
Other family members have reacted differently to their loss.
Many of the relatives left the hotel weeks ago, explains psychologist Paul Yin.
'Moving experience'
Dr Yin and his colleagues are offering grief counselling to 30 of the families with relatives on the missing plane.
"In the initial days, it was helpful for the family to stay at the hotel because they had people that understood them and they felt more comfortable," he says.
"But after a while, it will be helpful for them to go home. Slowly returning to their familiar routines will help them break away from the past two months. Hopefully, they can start feeling better."
On the same weekend that Lu Zhanzhong and the other hotel families reluctantly travelled home, another family gathered for a far different event: a wedding.
The groom's childhood best friend and his wife were on the missing plane. The couple were flying back to Beijing so the two men could attend a sporting event together.
After a delay, the wedding went ahead, with Dr Yin in attendance as a guest.
"It was a very moving experience," he says. Some families are starting to move on, even though they still don't know what happened to the plane.
In the near future, Dr Yin will attend the wedding of a man whose parents were flying around the world before attending their son's wedding in Beijing.
"I've suggested to the young couple they finish the planned trip on his parents' behalf and, at the completion, have a small private ceremony." Dr Yin says. "They're planning that now."