Will 'ethnic cohesion' mend Xinjiang?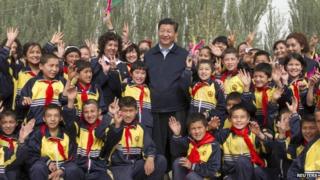 The brazen attack on a railway station in Urumqi took place as Chinese leader Xi Jinping was wrapping up his first trip to Xinjiang as president.
The timing appears to be no coincidence: it will be seen as a defiant message to Mr Xi.
Beijing is struggling to contain the growing violence emanating from its far western region, home to the Uighur ethnic minority.
China blamed "Uighur separatists" for another deadly attack at a railway station in Kunming in March - thousands of kilometres from the region.
Mr Xi visited the region with Kunming very much on his mind.
Since the latest attack, Chinese state TV has been endlessly casting Mr Xi as a paternal leader meeting the locals during his four-day visit.
In some of the footage he is shown sporting a traditional cap worn by Uighur men.
Uighurs, who are predominantly Muslim, make up less than half of the region's population. They have long complained of cultural and religious repression under Chinese rule, an accusation Beijing denies.
Uighur exile groups and human rights organisations say China's social and economic policies are fuelling the unrest.
But Beijing says the violence is being sponsored by overseas groups and that only way to quell the unrest is through greater development and integration.
That was why Mr Xi was shown at a bilingual school stressing to Uighur children the importance of learning Mandarin, the country's official language, as well as their native tongue.
He stated that it would improve their job prospects and also promote "ethnic cohesion".
China's leader has also pledged to use an iron fist to crush what he describes as terrorism.
"More sweat in ordinary times, so there will be less blood spilled in times of war," Mr Xi told police officers in Kashgar, a city in southwest Xinjiang. "There must be effective means to deal with violent terrorist elements."
Following the latest attack, the coverage has been heavily censored.
Pictures from the scene were deleted from Weibo - China's equivalent of Twitter - highlighting the sensitivity of the issue.
Instead, Chinese state TV continues to pump out pictures promoting ethnic harmony. But all the pictures cannot mask the reality that China's policies, for now anyway, are not working in Xinjiang.