Cao Shunli: 'Strong' activist who died under detention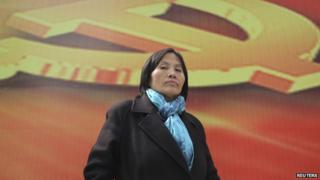 Cao Shunli, 52, was dedicated to promoting human rights in China.
Last Friday it was announced that she had died in a Beijing hospital after being held at a detention facility for several months.
According to the watchdog group Human Rights in China, she had been suffering from tuberculosis, liver disease and other ailments.
Her brother told the BBC that she had been denied medical treatment until it was too late to save her. "The guards saw her getting weaker and weaker until she died," said Cao Yunli. "Her main problem was malnutrition. It was easy to fix."
Countries including the US and Britain have expressed concern over her death.
China's Foreign Ministry on Monday said that the activist's "lawful rights and interests have been protected in accordance with law", without giving further details.
Along with other activists, Ms Cao staged a two-month sit-in outside China's Foreign Ministry over the summer.
She was pressing the authorities to allow the public to contribute to a national human rights report that China submitted to the United Nations. The government did not listen.
'Many friends'
In September, she was stopped by the authorities from flying to Geneva to attend a training programme on United Nations human rights procedures. She was then detained on suspicion of "picking quarrels and provoking trouble".
Ms Cao was clearly aware that by protesting against the government she was putting herself in danger.
Her brother says she did not tell her family much about her human rights work because she "wanted to protect us."
Mr Cao says his sister became an activist after she was sacked from her job at a government ministry when protesting over work benefits.
He describes her as a "very kind and strong person" who was sometimes "too naive".
"When she saw homeless people she always gave them money," he said. "A few times she brought homeless people back to her home. I told her this wasn't safe but she didn't care.
"It was only when she passed away that I realised she had so many friends. They all told me she had helped them out."