'Where has Xi Jinping's time gone?'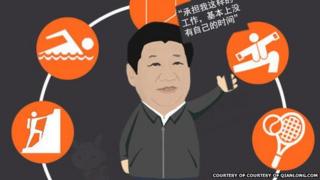 With his jet-black hair, grey zip-up jacket and protruding belly, he looks a regular Beijinger. But this is actually China's President Xi Jinping in cartoon form.
A graphic entitled "Where has Xi Jinping's Time Gone?" was published on a website affiliated with Beijing's municipality.
It was prompted by a remark made by Mr Xi when he was attending the Winter Olympics, wondering where all his time had gone since he took the top job.
Using several illustrations, the graphic gets on the case. It says in the 15 months since Mr Xi took power, he's taken 12 trips within China and visited 14 countries in five different continents. In the last year, he's apparently participated in 47 different conferences.
In its final segment, there is a cartoon version of Mr Xi holding a sign that reads: "Undertaking my kind of work means that I basically don't have any time to myself."
But when he does have down time, his hobbies reportedly include reading, martial arts, swimming and football.
What's striking about the graphic is its informal and down-to-earth tone. It appears designed to appeal to a younger generation who are generally more cynical and savvy than their parents.
China's state media have been careful to cultivate Mr Xi's image as a man of the people. He certainly seems to exude more warmth and charm than his rather robotic predecessor Hu Jintao.
There may be no democratic elections in China, but Mr Xi still needs to court public opinion. In December he bought a meal at a regular restaurant in Beijing.
The visit generated a blaze of publicity - his steamed bun was seen to successfully burnish his regular bloke credentials.
The public image of the leader of the most populous nation on Earth is, of course, very tightly controlled. But in the internet age, it's becoming tougher.
When Xi Jinping held a summit with US President Obama last year in California, China's micro-bloggers spotted that a photograph of the two men walking across a lawn bore a striking resemblance to a cartoon picture of Winnie the Pooh and his friend Tigger.
The comparison of Mr Xi to a naive and slow-witted bear obsessed with getting his paws on honey was apparently too much for the censors.
According to the South China Morning Post, the posts were blocked at the time, although if you search now you can find the images.
The reality is we know very little much about the daily life of Xi Jinping. The world of elite Chinese politics takes place behind closed doors. And until things change, a cartoon and a graphic are probably the closest we will get.