Ill wind for Hong Kong's press freedom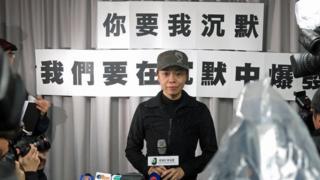 Lashed by bouts of wind and rain, Hong Kong is experiencing unseasonably chilly weather this week.
Undeterred, a steady stream of the city's famously tough and boisterous journalists braved the cold to gather outside the office of privately owned Commercial Radio, a local station, to protest against the sacking of a popular but polarising talk show host Li Wei-ling.
Ms Li has long been a frequent critic of both the Hong Kong and mainland Chinese governments.
Her abrupt firing is being seen as an attack on press freedom and media independence in a city that is increasingly worried about censorship and self-censorship.
At a packed press conference at the Hong Kong Journalists Association on Thursday, Ms Li accused Hong Kong Chief Executive CY Leung of orchestrating her dismissal.
"From what I can see with my own eyes, I have nothing to hold back. I feel 100% this is a suppression of press freedom and freedom of speech by the CY Leung government. Commercial Radio as a licensed broadcasting company gave in to this curse of Satan for renewing its licence," she said.
The station is due to renew its broadcasting licence in 2016.
Mr Leung has denied having anything to do with the firing. Commercial Radio has declined to comment.
'Under attack'
The affair comes in the same week as two reports which describe press freedom in Hong Kong as being under attack.
The Paris-based Reporters Without Borders says Hong Kong, a special administrative region of China with its own laws, has slipped three places in an annual ranking of press freedom.
The organisation says China continues to flex its economic might, compromising journalistic independence in Hong Kong, Macau and Taiwan.
China itself has slipped one place to 175 out of 180, just ahead of Somalia, Syria, Turkmenistan, North Korea and Eritrea.
The New York-based Committee to Protect Journalists published a report saying media freedom in Hong Kong was "at a low point", 17 years after the 1997 handover of sovereignty.
It cited commercial pressure and self-censorship as particularly serious problems, especially because more than half of media owners in the city have reportedly accepted positions in China's lawmaking bodies.
Hong Kong's unusually cold weather is expected to end this weekend.
But the press corps here says it is feeling a different sort of chill, one that is unlikely to fade.